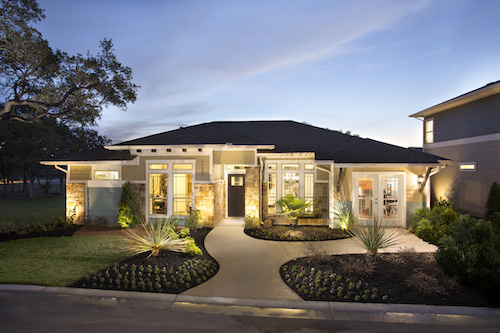 The popularity of Central Texas has been attributed to its iconic music and food scenes, warm climate and surrounding natural wonders. With this growth, it is important for developers and builders to identify what millennials and first-time buyers want in a home.
One of the things we found at Brookfield Residential Texas is that first-time homebuyers and empty nesters are looking for a low maintenance home in a lock-and-leave community. With this information, we have tailored our strategy for purchasing land positions and creating housing to fit the needs of these demographics — reasonably priced smaller homes that have maximized layouts and little wasted space.
But, of course, offering a lower-priced home shouldn't mean inferior quality.
Our Cottages product line was created to marry a nostalgic product of time-honored architecture with a small community footprint so we could maintain the intimacy between lifestyle, community and the natural beauty of a small homesite. The design intent was to create open-concept floor plans that feel bigger than they actually are. The results revealed a virtual "little big house" where quality square footage over quantity square footage was achieved.
This smaller-concept product provides a quaint, beautiful housing option that emulates the comfort of your grandmother's home, but that's not all.
Our product research also told us that both empty nesters and millennials wanted sustainable, energy efficient homes. With this in mind, Brookfield constructed the homes with advanced green building standards. With energy efficiency in mind, the Cottages are built with extra insulation, advanced HVAC techniques and highly efficient water usage design to minimize the carbon footprint on the homes.
Within a home, these buyers want to merge modern technology and amenities with traditional features. New levels of energy efficiency with updated science and modern fixtures juxtaposed with a more old-fashioned feel — including craftsman style doors, door pediments and tall baseboards — are necessary in these homes.
First-time homebuyers want locations close to the city, while also maintaining a hometown feel of a smaller community. They prefer to be close to local restaurants, shops and entertainment centers, and endless parks and trail systems. Stylish one-story and two-story detached Cottages are ideally situated in private, gated enclaves of meandering streets not far from many of these activities.
The goal in developing and building for first-time homebuyers and empty nesters looking to downsize is to make homeownership easy. We know these customers are seeking homeowner associations that provide additional amenities similar to what one might find at apartment complexes, such as lawn care and minimal maintenance Texas native landscaping.
Buyers of all generations have home buying needs they expect to be fulfilled. As a homebuilder, it is vital not only to identify those needs, but also effectively incorporate them into thoughtful designs. With an ever-evolving and competitive market, Brookfield has strategically moved away from a "one-house-fits-all" mindset and tailored each design to fit the needs of the targeted demographic.
Mike Beckett is the chief product developer for Brookfield Residential Texas.
---
Interested in submitting a column or idea to Houston Agent magazine? Contact editor Rincey Abraham at [email protected]