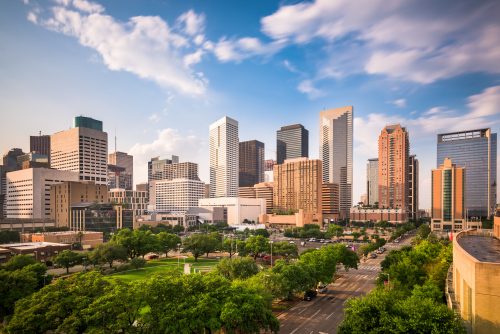 Houston placed No. 25 in Indeed's annual ranking of best cities for job seekers, down from No. 9 last year. In individual categories, Houston ranked at No. 14 for work/life balance and No. 15 for job security and advancement. Its lowest ranking was for job market favorability (No. 46). The other Texas cities to make the list: Austin at No. 12 and San Antonio at No. 17.
In other Houston real estate news:
Darling Homes has opened two new model homes in Parkland Village, the latest section of the Bridgeland MPC. Homes in the Sanctuary Collection are one-story homes that range from 2,400 to 3,000 square feet. The Regency and Cornerstone Collection range from 3,850 to 5,400 square feet.
The Houston Black Real Estate Association is holding an expo on Saturday to celebrate the 50th anniversary of the Fair Housing Act, and as part of a week-long effort to increase black wealth through homeownership. The expo will be held at the Community of Faith Church.
Lennar has opened an in-town community at the Neumann Oaks Community in the Northside neighborhood. The company is selling two-story townhomes that range from 1,425 to 1,627 square feet and start at $300,000.
Houston came in at No. 12 on Forbes' annual best cities to rent list. According to the list, Houston's monthly rent averages around $1,080 with rent growth of 7.2 percent, while vacancy is currently 6.2 percent. The Raleigh-Durham-Chapel Hill area was ranked No. 1.
Marketing materials have been released for the new apartment building planned in place of Bethel Church, according to Swamplot. The building will have 168 apartments wrapping around its central seven-story parking structure, with 25,000 square feet available for retail.