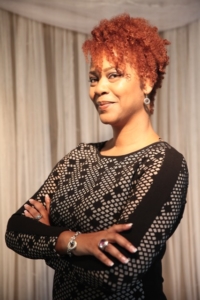 Name: Paulette Thomas
Job Title: Real estate agent
Company: RE/MAX Generation
What was your first job in the realty industry? Real estate associate
Where did you grow up? Houston, TX
Growing up, what did you want to be? Runway model
What do you do to relax when you're stressed? Workout
If you could have lunch with a well-known figure (living or not), who would it be and why? Janice Bryant Howroyd. Janice is a female entrepreneur that I admire and respect. I would love to sit and gain wisdom from her… no lunch needed
Where is your favorite place to hang out? Anywhere my twin sister Paula is would be my favorite place to hang out!
What do you love most about the industry? I love being able to assist clients at pivotal points in their lives! Whether buying their first home, selling their home, leasing a home or apartment. I love that no matter where they are, I can assist!
How do you distinguish yourself from the crowd of agents? I make myself available to my clients and they all receive the quality client service they deserve, no matter the transaction size.
What is the most difficult aspect of your job? I haven't experienced any major difficulties in my job! I work with a knowledgeable brokerage (RE/MAX Generation) and other great agents in my office. Team work makes the dream work!
Where do you go to network and meet new clients? I host several social gatherings as well as attend events that are not related to the industry.
What has been your greatest accomplishment? Being a self-published author opened the door for me to stand as a motivational speaker on college campuses in Texas!
What was the last good movie you saw or book you read? Black Panther
What is your favorite restaurant? Emeril's Delmonico Steakhouse
Architecturally speaking, what is your favorite building in Houston? Spindletop
What kind of car do you drive? Cadillac CTS Coupe
Smartphone or paper? Smartphone
What is your favorite city after Houston? Las Vegas
In 10 words or less, what is your advice for someone new to the industry? Don't give up!
What's your favorite real estate iPhone/Android app? CamScanner
Who are your favorite people to follow on Twitter? @John Legend @ADVOCARE @Remax
---
Want to be featured in our Agent Snapshot? Click here and complete this survey. Agent Snapshots are published on our website and shared in our newsletter and social media feeds.