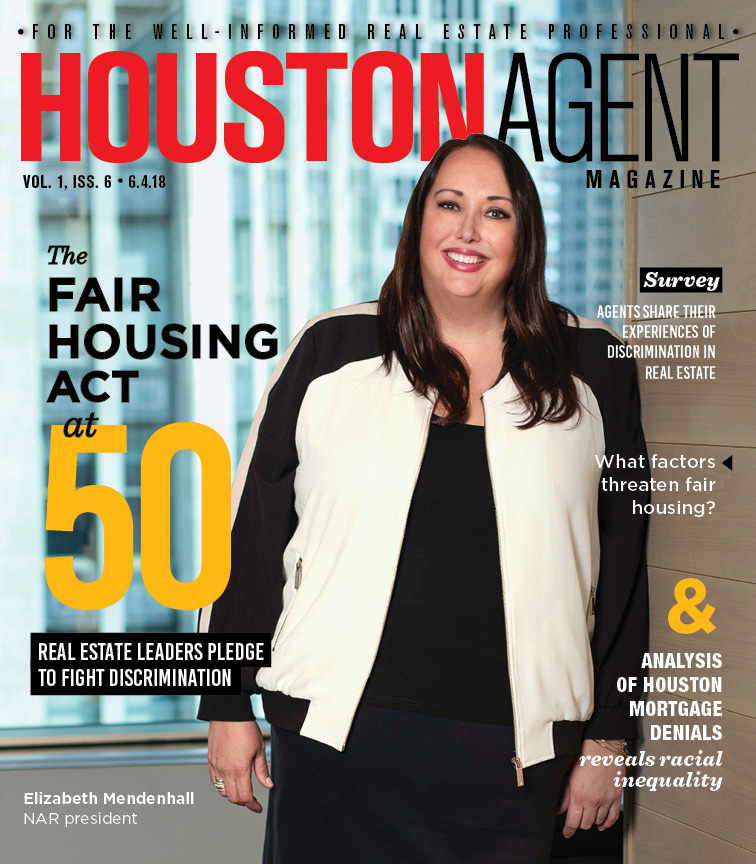 Before the federal Fair Housing Act could be signed into law on April 11, 1968, political compromises to ensure its passage in the Senate significantly reduced the impact of the legislation. The change eliminated the government's ability to bring enforcement actions against violations of the law. While the landmark bill finally banned discrimination in the selling or renting of housing, it left the question of enforcement open ended. In response, some 2,000 fair housing groups took up the responsibility. But in reality, this meant that real estate agents would be on the front lines of policing a new and controversial law.
Fifty years later, the face of racial bias and discrimination in housing has changed, but the real estate industry's unique position to effect change on the topic hasn't. Though the country has made significant strides in rooting out institutionalized discrimination in housing and other industries, real estate professionals still play a central role in leveling the playing field.
"As Realtors, one of our foundational beliefs is that we know that we are the stewards of the right to own, to transfer property," says Elizabeth Mendenhall, president of the National Association of Realtors. "It's something we're very proud of. It is an obligation above and beyond other professionals. But it's a reminder to us that we're all the same."
An agent's relationship to the federal Fair Housing Act has morphed over time, but its ideas and legality is still a central tennant of the profession. On the 50th anniversary of the landmark legislation, here is how the battle for housing equality has changed over time and how agents can help to ensure its future success.
"It's almost hard to imagine how we would continue to exist without the Fair Housing Act," says Kenya Burrell, the 2018 chairman of the board of the Houston Association of Realtors and broker/owner of KBurrell Properties. "The Fair Housing Act has had a profound impact on our industry, our country, and the communities that we live and work in. We have come a long way, but still have challenges to overcome with equality in housing."
How we got here
The Fair Housing Act was signed into law exactly a week after Dr. Martin Luther King Jr.'s assassination. The idea for the law was not new: it was left out of the initial Civil Rights Act of 1964 and Congress had debated its merits through 1966-1967, but it never garnered enough support for passage during that time. President Lyndon Johnson used King's tragic death to push for the bill's passage.
King, on top of being the most visible champion of civil rights in America, had also established himself as a leader in the fight against housing discrimination. In 1966, King marched on Chicago's South Side to protest the confinement of black residents to far flung communities with adequate housing or services.
---
Read more from our Fair Housing Issue
---
King rented one of those apartments to bring attention to the plight of black Americans in northern cities. His supporters attempted to march to a real estate office that was barring black residents from buying in an all-white neighborhood, but King was hit in the head with a rock and a riot broke out.
The incident pushed housing rights to the forefront of the political discussion, and President Johnson sought to honor King's memory with passage of the housing bill before the civil right martyr was buried.
Johnson's ploy worked, but the question of how the new law would impact housing discrimination remained to be seen.
Agents on the front lines
There are arguments that the Fair Housing Act was a watered-down law that had more symbolic effect than tangible impact on housing discrimination. Supporters of the argument note that segregation in America is as prevalent as ever. In fact, segregation only dipped slightly in the 1970s — in the years immediately following the bill's passage — but quickly rebounded, according to an op-ed by Richard H. Sander, a professor of law at UCLA and author of the book "Moving Toward Integration: The Past and Future of Fair Housing."
Still, there is evidence that the law has had an impact on discrimination. Sander writes that a 1977 study by the department of Housing and Urban Development sought to see how rampant discrimination was. It set out black and white "testers" who sought information about minority or all-white communities. Results showed that black testers faced significantly less discrimination when inquiring about a white area than they did in the 1950s, according to Sander.
Such studies show that incidents of overt discrimination in the home selling and buying process have significantly decreased. But segregation, affordability and low black homeownership rates are still prevalent issues in Houston and beyond.
"The rate of homeownership, one of the most important ways for working and middle-class families to build wealth, has remained virtually unchanged for African Americans in the past 50 years," says Kim Barnes, broker/owner of KBH Signature Realty Group. "Black homeownership remains just over 40 percent, trailing [white homeownership by] 30 points. Houston rates are no different."
Burrell agrees that minority homeownership figures need to go up.
"Diversity in communities and housing are indicators of how housing discrimination has changed over time," she says. "Disparaging rates of home ownership in the minority community continue to exist, increasing the ownership gap."
There are a number of ways to boost minority homeownership, including incentives for investing in blighted areas and tax incentives for first-time buyers. The National Association of Real Estate Brokers, a historically black real estate group, is using the anniversary of the Fair Housing Act to push for 5 million new black homeowners.
And though instances of overt racism in housing have largely been sidelines, agents must stay vigilant to potential violations of the law. Some of the most common instances of discrimination, experts said, can be in the way agents market themselves or advertise listings. Mentioning a place as "family friendly" or even as good for singles can be seen as discriminatory.
"We must make sure that we inform those that we work for and with when there are issues that be considered a violation of the Fair Housing Act and take immediate measures to cure those," she says.
Next Steps
The Fair Housing Act includes seven protected classes: race, color, religion, national origin, sex, disability and familial status. Sex was added in 1988, the last time the federal law was amended. States and municipalities, however, are able to add to the number of protected classes.
NAR has included in its code of ethics to not allow for discrimination based on sexual orientation or gender identity. Mendenhall says she would like to see more protections for these classes, and that NAR is working on the case. They are fighting for other classes as well, she said.
"There are some states and municipalities that have included veterans in their housing laws," she said. "As realtors, we want to fight for them so they can get fair housing. They fought for our protection, so we want to fight for them."
Barnes said she would like to see local of federal law add convicted felon to protected status in housing laws as another way to boost minority homeowners and prevent discrimination in housing.
The Houston Association of Realtors has commemorated the 50th anniversary of the Fair Housing Act in a number of ways, including joining forces with a local nonprofit, Avenue CDC, to paint homes in under-served communities, Burrell said.
"The commemoration of the 50th anniversary of the Fair Housing Act has provided a tremendous amount of awareness to consumers and Realtors, highlighting the contributions of the multi cultural associations involvement with this movement," Burrell says. "This is a reminder to the real estate community that diversity in housing, and fair housing practices are routine every day of the year. "
The National Association of Realtors, as well as its local affiliates and other real estate groups, have been commemorating the 50th Anniversary of the Fair Housing Act throughout this year, while also acknowledging the work that still needs to be done.
"We're commemorating the Fair Housing Act but we're also know there's a past, there's where we are in the present and there's the future, where it's critical that not just the protected classes but that anyone doesn't face discrimination in housing," Mendenhall said.