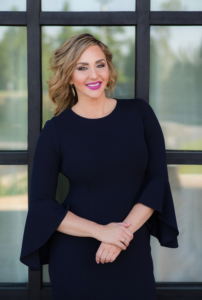 Name: Amber Kuhl
Job Title: Managing Partner/Realtor
Company: The Collection Real Estate by JLA Realty
What was your first job in the realty industry? I dove into real estate head first after obtaining my license in 2013 and began working as an agent in the Woodlands and Lake Conroe areas.
Where did you grow up? I grew up in a town about 50 miles north of Houston called Willis. I was extremely lucky to grow up in a place where everyone knew everyone, and we all keep in touch today.
Growing up, what did you want to be? I was a kid that changed what I wanted to be every week. One plan that always resurfaced was one day owning my own boutique. That will still happen. What lady doesn't want to own her own store full of amazing clothes?!
What do you do to relax when you're stressed? Travel is the best escape! Finding places that are off the beaten path and where your phone doesn't work are the greatest!
If you could have lunch with a well-known figure (living or not), who would it be and why? There's no way I could narrow this down to just one. I think everyone in real estate would love the opportunity to sit down with Barbara Corcoran and Richard Branson. But I can also think of a million questions I'd ask everyone from Elvis to Coco Chanel. This would be a tough one for sure!
Where is your favorite place to hang out? Well, I'm a southern girl, and we do love a good restaurant! I like trying new, local places that mix up a killer cocktail.
What do you love most about the industry? I love that this business takes people from all walks of life — degree, no degree, sales experience, new to sales — it's not indicative of how successful you can be in real estate. I've seen stay at home moms come in the first year and be wildly successful, and sons and daughters be able to pay off their parent's mortgage. This business is nothing short of amazing, and I know how incredibly lucky am to have found my place here.
How do you distinguish yourself from the crowd of agents? I think once you've truly found who you are, distinguishing yourself from a huge pool of agents becomes effortless. When you're happy with you, it just happens naturally. You attract the right group of people and your business just blossoms.
What is the most difficult aspect of your job? Balancing work life and home life will forever be my greatest struggle in this business. It's hard to "turn it off" sometimes, but when you love what you do it truly doesn't feel like work.
Where do you go to network and meet new clients? I think networking, meeting new people and clients in real estate goes back to just being you, and doing what you really enjoy doing. I meet most of my agents and our potential clients when I'm out to dinner and at gatherings with friends. I never meet a stranger, which usually means every outing takes three times as long as planned. But it really is the best job ever!
What has been your greatest accomplishment? Honestly, my greatest accomplishment has nothing to do with this business. I'm proud of watching my agents grow their businesses, and seeing them create these amazing careers. But knowing that my son knows the value of hard work, and that even at nine he can't wait to start his own business makes me crazy, ridiculously proud.
What was the last good movie you saw or book you read? I'm a sucker for true crime. "Adnan's Story" is a must read. With that being said, every female should read "Girl Wash Your Face" before 2018 is over!
What is your favorite restaurant? You're asking a girl that lives for her next meal to pick just one?! Bring me all the Mexican food. All of it.
Architecturally speaking, what is your favorite building in Houston? The St. Edward's University Main Building is amazing, but I also love how incredibly simple the Rothko Chapel is. And being a U of H alum, I've always had a love for Cullen Performance Hall.
What kind of car do you drive? I think real estate agents put way too much emphasis on the car they drive. You don't have to "Keep up with the Joneses." Keep up with your budget friends!
Smartphone or paper? Hybrid. My life is full of random notes, ideas that pop into my head, events I need to enter into my calendar and places I want to remember to go or try. With that being said, my phone battery is dead by 10 am.
What is your favorite city after Houston? Ouray, Colorado. I cannot tell you how amazing this town is. It's spotless, everyone is ridiculously happy and the weather and views are fabulous!
In 10 words or less, what is your advice for someone new to the industry? Do the work, pay your dues. You can do this.
What's your favorite real estate iPhone/Android app? There's not one. Sorry. HAR, Houzz, Lightroom (for editing pics on the go), CSS. There's so many more.
Who are your favorite people to follow on Twitter? @HoustonAgentMag, @HoustoniaMag, @ItsNotHouItsMe, @NobuHata, @AmyChorew
---
Want to be featured in our Agent Snapshot? Click here and complete this survey. Agent Snapshots are published on our website and shared in our newsletter and social media feeds.