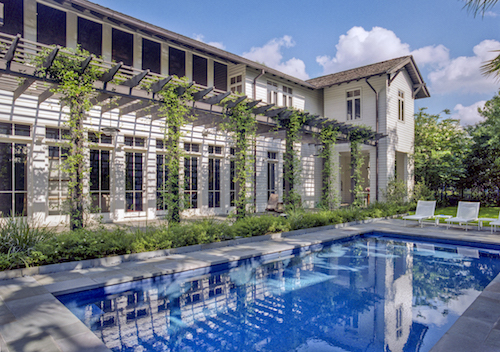 Jay Baker began his architectural firm Jay Baker Architects on January 1, 1991. In the beginning he focused on single-family homes for an end user. Now he has expanded the company's services to include additions, master planning and more. From designing a home for Jim Crane, the owner of the Houston Astros, to helping on kitchen renovations, Baker has been
Q: Can you describe your process working with your clients?
Baker: Usually people come to us through a referral and they have a piece of property they want to build on. I ask them to make a wish list from the sublime to ridiculous. You never want to pre-edit the wish list. An architect gets better by having big ears before getting any big ideas. All of the houses I have built are inspired by the clients' wish list.
After that, we have to really understand the property and site. How dense is it? How big is it? All of those things tell me how best to make what the client wants fit.
We are very, very thorough. We do a thorough set of construction drawings that helps provide order and character to the space. But the other objective reason is you can get a tight price for construction so the process never becomes difficult or filled with too many stumbling blocks.
Q: What are some of the trends that you are seeing in Houston homes right now?
Baker: The notion of sustainability is a big deal. It is becoming more sophisticated and advanced than what people would think. So much of sustainable design is common sense. The notion of passive solar design by orienting the house to ideal sun angles and natural breezes still holds true.
The second thing is the overriding importance of natural light. This is correlated with sustainability. The abundance of natural light can have a major impact on a smaller house to help it not feel cramped. Windows and doors are becoming very sophisticated in terms of the building envelope like insulated glass. Also, whether it is asked for specifically or not, there is the marriage of house and garden. So the inside rooms are related to outside areas.
Q: Are there certain elements that are in high demand at the moment or things that you see falling out of style?
Baker: I don't pay attention to the latest style. If there's an article on the cover of the paper about the latest style, that means it'll be gone in two months. When architecture hits these peaks, like post-modernism in the 80s, I don't get involved. I pay attention to time-tested styles and craft. Most of our clients would call themselves traditional, but they also like natural light. So you have large banks of windows and doors that you wouldn't have seen in a house built in 1939 in Houston. A bank of windows and doors is a relatively modern thing, but we figure out how to do it.
Q: Is there a specific style or design element that you are partial toward?
Baker: I'm known as a roof guy. The roof is a serious component of the face of a house. Inside, the roof can lend a uniqueness and charm. But the other thing I love is the marriage of house and garden. You don't design a house and plop it down on a piece of land. I'm intent on it being apparent that the house is hand and glove relative to the site it fits on.
---
Read more from our New Construction issue