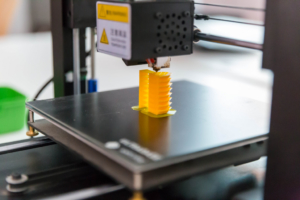 We Print Houses, a Woodlands-based company, will start construction in the next three weeks on a 1,810-square-foot house outside Austin in Lago Vista. The house will be built out of concrete, take about 18 days days to build and will be "printed," rather than conventionally built.
This prototype home, aptly named "Genesis," by spraying concrete into pre-arranged panels at the construction site. According to the company's founder, Larry Haines, this method only costs about $100 per square-foot to construct the home.
Haines' house-printing system consists of a movable platform with a printer head that uses self binding, geopolymer concrete to build the roof, walls and floor of the house. This cement is hydrophobic and hardens at room temperature. The system was designed to meet international building code and is able to be inspected by city inspectors during the building process.
Although Haines' system gets rid of the need for subcontracting crews and specialists like brick layers or carpenters, reducing the cost, the system as a whole costs $450,000. At this price, Haines wants to be able to find contractors capable of "printing" four of these houses a month.
Since the printed houses are made out of concrete, Haines claims that they are also resistant to most natural disasters including fires, tornadoes, hurricanes, earthquakes up to 8.0 in magnitude, flooding and hail. Haines has also been looking into rebuilding homes destroyed by the wildfires in California using his system.
The finished "Genesis" home will have three bedrooms and two bathrooms and will sit overlooking the Colorado River.
Pasadena

was ranked the number three most lucrative place in the nation to rent out homes with Airbnb

in a report from financial website IPX1031. The home-sharing database has increased Pasadena's rental growth by 121 percent over the past seven years and could give property owners an estimated profit of $29,988 annually, after mortgage payments, according to a representative from IPX1031's public relations team.

A new Houston community, Alta Washington Avenue, is underway with an expected total of 204 units consisting of 1- and 2- bedroom floor plans as well as 3-bedroom townhouses. The 7-story complex, being built by national real estate company Wood Partners, is

expected to be finished by Winter 2020. The development will feature a dog park, sky lounge, salon and other amenities on the 7th floor.