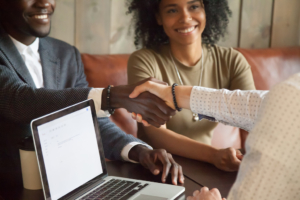 New FHFA director discusses plans for mortgage market
Earlier this month, the Senate confirmed Mark Calabria as the new director of the Federal Housing Finance Agency. The FHFA oversees government-owned mortgage insurers Fannie Mae and Freddie Mac, which together guarantee about half of all outstanding mortgages in the U.S. In his first interview since assuming the position, Calabria explained to reporters at The Wall Street Journal his thinking behind plans to unwind the federal government's stake in Fannie and Freddie, returning control to private shareholders. However, it's still unclear how much Calabria and the current administration can accomplish without the approval of Congress, particularly the Democrat-controlled House of Representatives, which remains opposed to much of the White House's agenda. Calabria hopes to see the first round of policy changes within the FHFA implemented by June.
One change to the mortgage finance system that Calabria's FHFA may pursue without congressional approval involves changing Fannie and Freddie's underwriting standards. The two firms only buy and securitize mortgages that meet strict standards in order to manage risk. But workarounds currently exist that allow, for example, Fannie and Freddie to purchase loans made to homeowners with a debt-to-income ratio (DTI) above the typical threshold of 43 percent. Since 2015, the share of mortgages with DTIs above 43 percent backed by Fannie and Freddie has nearly doubled. Calabria told the Journal that he is exploring ways to eliminate that exception, or perhaps pass a law that would require other mortgage underwriters to adhere to the limit. Still, he conceded that this was far from a certainty, as are many of Calabria's goals for the FHFA.
"I can draw Fannie and Freddie a map," Calabria said in the interview. "Fannie and Freddie are going to have to be the ones who meet the mileposts."
New-home sales pick up steam
While the latest data on existing-home sales and residential construction left something to be desired, new-home sales bucked the lackluster trend in March. The U.S. Census Bureau reported sales of brand-new homes grew by 17.6 percent over February and 11.4 percent above March 2018, reaching a seasonally adjusted annual rate of 692,000. Available inventory in the new-home market was also 15.8 percent higher than a year ago. And in a great sign for buyers, prices on new homes were 4 percent lower than one month earlier and 9.7 percent below March 2018. The fact that new-home sales continue to grow points to persistently strong demand and a robust economy.
Millennials place homeownership above marriage, other goals
A recent survey of millennials conducted by LendingTree found that many members of America's largest generational demographic want to own a home before they tackle other major life goals like marriage, having children or even adopting a pet. Out of 2,100 Americans age 22 and older who plan to buy a home in the next two years, 27 percent said they are postponing parenthood until until they purchase a home. Around a quarter of respondents said they were postponing marriage in anticipation of a home purchase, while nearly as many said they were waiting to get a pet until after they become homeowners.
NAR, CAR sell zipLogix stakes after acquisition
Lone Wolf Technologies announced April 22 that it had acquired zipLogix, a provider of transaction management services for real estate agents. Lone Wolf is acquiring zipLogix from former majority owner the California Association of Realtors as well as minority owner the National Association of Realtors. Under the ownership of the two associations, members of NAR enjoyed free access to zipLogix services, which will continue until the company's licensing agreement with NAR ends at the end of 2020. NAR said in a statement that funding provided by the sale will help it "improve the technological capabilities and resources of Realtors, helping brokers and agents be more efficient and productive and deliver superior customer service."