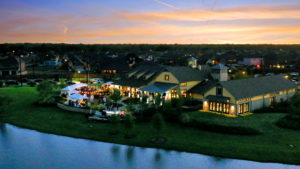 For the past 20 years, buyers have been attracted to new construction by award-winning builders at Sienna Plantation. The real estate professionals who live and sell in the community can attest to its appeal: A natural, yet convenient setting that beckons them to the outdoors. Like many of their clients, they too have moved up within the community, finding homes to suit all stages of their lives, because Sienna Plantation provides a lifestyle they cannot find anywhere else.
A 10,500-acre master-planned community in Missouri City by Johnson Development Corp., Sienna Plantation boasts the perfect mix of residential and commercial properties, as well as renowned amenities. "We have a good understanding of the market and what buyers want: a sense of quality," said Alvin San Miguel, vice president, general manager of Sienna Plantation. "We are well-invested in the community and we want the residents to be happy with what they've bought."
Buyers can choose from townhomes and single-family properties by a multitude of builders. The list includes: David Weekley; Perry; Taylor Morrison; Darling; MI Homes; Chesmar; Westin; Meritage; Shea; Newmark; MHI; Lennar; Trendmaker and Toll Brothers. And to serve the 55+ Active Adult market, the community offers age-restricted apartments and duplexes with an assisted living component.
New neighborhood, new model home park and exclusive Realtor preview on May 17
Sienna Plantation has just completed a brand new model home park in a new neighborhood called Heritage Park. It's idea for first-time buyers, young families or those seeking a single-story home. Lot sizes range from 45 to 60 feet, and townhomes start in the low $200s and single-family homes are priced from the $250s to the mid-$400s. This new neighborhood will feature a community park with a splash pad and play structures, as well as a much-anticipated dog park with sections for small and large dogs.
Johnson Development is hosting an exclusive preview of Heritage Park for Realtors on Friday, May 17 from 11:00am until 3:00pm. Realtors will have an opportunity to explore ten model homes before they're open to the public. In addition to lunch, Realtors will be given a game card to get stamped at each model for a shot at 30 days with their image on a billboard.
Johnson Development Corp. is excited to host a grand opening featuring family entertainment and food trucks on Saturday, May 18 for its 10 model homes in Heritage Park, which shows off Sienna Plantation's newest model homes. Heritage Park has something for everyone. Townhomes start at $200,000 and single-family homes are priced from $250,000. This new neighborhood will have a central green space with a splash pad, a dog park, as well as both active and passive play areas. Construction will begin this summer and Heritage Park will open next spring.
An outdoor oasis
Fantastic amenities make an average weekend at home feel like a vacation. In all, Sienna Plantation has more than 3,000 acres dedicated to parkland, golf, recreational areas, lakes for fishing and undeveloped green space. The community has two resort-style clubhouses with swimming pools, fitness centers, water parks and more than 100 miles of walking trails. Some of those trails meander through natural creeks and wooded areas. There also the semi-private 18-hole Arthur Hills championship golf course, which residents can join or pay a daily fee to play. Parks include playgrounds, an amphitheater and a sports complex with enormous athletic fields and campsites.
"A lot of buyers prefer a location that feels like it has a slower pace than living in the city," San Miguel said. "They want to feel safe. They want to be in a nice, diverse community, with friends, family and neighborhoods out in the suburbs, but still close enough to reach employment centers."
Close to work
The community is served by the Fort Bend Tollway, which connects directly to Loop 610 and Beltway 8, making for easy access to I-10, I-610, I-59 and I-45. As a result, the largest employment hubs in the area from the Medical Center to the Energy Corridor and Downtown Houston, are a short drive away. Sienna Plantation is also near Sugar Land Town Square, a destination for shopping, dining and entertainment. However, residents don't have to travel far for everyday conveniences. Right within Sienna Plantation's borders are an HEB grocery store, a Wells Fargo bank branch, CVS drug stores and several gas stations. What's more, a variety of restaurants, shopping and office space for residents who work from home but want a change of scenery are all right here.
Outstanding schools
Sienna Plantation's youngest residents attend grades k through 12 in the highly acclaimed Fort Bend Independent School District. The commute to school is short, since four elementary schools, two middle schools and a high school are all located within Sienna Plantation's borders.
More for the money
"You can get a lot more for your money here versus in Sugar Land, where you will pay another $30,000 to $50,000 more for the same house," said Todd Riddle of Linda + Todd Riddle, The Riddle Team at RE/MAX Fine Properties. In the past five years, the husband and wife team have built their second home in Sienna Plantation, a move-up property, in the newest section of Bees Creek, by builder Fedrick Harris. The home has an open-concept floor plan on a private, nine-hole golf course, an outdoor covered patio and a pool. Most of all, the Riddles are enamored with the surroundings. "Johnson Development keeps a lot of trees," Riddle said. "It's not one of those developers that goes in and scalps the place and plants trees. They've kept a lot of nature."
Bringing the outdoors inside
Outdoor living plays a big role in the design of Shea Homes, according to Chuck Cain, a salesman for the builder who has lived with his family in Sienna Plantation for two decades. Interestingly, the Shea family has been in the construction industry since 1881; its parent company was the lead contractor, along with five partners, responsible for building the Hoover Dam and the Golden Gate Bridge.
Very much influenced by West Coast architectural design, Shea brings the outdoors inside by incorporating sliding glass walls that open to covered patios featuring fireplaces and kitchens for entertaining guests close to nature. Setting itself apart from the competition, Shea offers options in flooring, cabinets, countertops, baseboards and ceilings that tend to only come in luxury properties. "If you go in our model, you will see the same kitchen offered in homes that are over $ 1million," Cain said. Yet, Shea Homes at Sienna Plantation are priced from the mid $300,000s to low $400,000s and can get into the $500,000 range with added options. It's a detail that has not gone unnoticed. In 2015, Shea won the Greater Houston Builder's Association "Prism Award for Best Kitchen by a Volume Builder" for its Sawmill Lake neighborhood, one of many design awards the company has earned at the local and state level.
Moving up within Sienna
Riddle's team sells about 90 homes a year in Sienna Plantation and does a lot of move-up business within the community. Sienna Plantation's variety of homes and price points—from $200,000 to $2.5 million—cover the whole spectrum of buyers, he said, whether buyers are looking for new construction or resale homes. Many times, clients are referred by friends and relatives who live there. Riddle recently sold a home to a player for the Houston Astros, next door to a teammate who already lived in the community. The player purchased a new, 5,400 square-foot home by custom builder Gracepoint and added an outdoor covered patio with a fireplace and fountain. "They love it," Riddle said. "They have kids."
To help clients find their dream homes, attend the Heritage Park Grand Opening "Texfest" on Saturday, May 18, from noon to 4 p.m., at 8610 Azalea Crossing Court in Missouri City. For more information, visit www.siennaplantation.com.