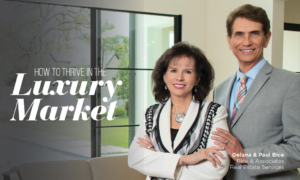 Discretion, efficiency, adaptability and expertise are all qualities that can lead to success in any business. For real estate agents working in and around Houston, they are among the keys to gaining a solid foothold in the luxury housing market. With the higher end of the housing market finally heating up after a sluggish start to 2019, agents looking to rise to new heights in the business have ample opportunity to work toward serving a growing pool of wealthy buyers.
"It's very difficult to start in the luxury market," said Lisa Gregory of the Lisa Gregory Real Estate Group, Coldwell Banker United. "It's rare that you'll find an agent that begins their career there because it's something you have to build to. You have to know your business. You have to know your areas, you have to know your people and you have to develop those relationships. But more importantly, you must develop a sense of trust. In this business, that's what translates into referrals and relationships."
Delana and Paul Bice of Bice and Associates Real Estate Services prioritize discretion with their luxury buyers, as well as knowledge of fundamental technical skills such as the ability to handle contract writing, financing and inspections.
"Any real estate transaction is demanding and it has a time commitment, but for the luxury home buyer, you need to be available whenever they are," Delana Bice said. "Their schedules are very busy, they travel a lot and so they have to be right up there at the top of the list. You have to be available to meet whatever needs they have as far as scheduling, because that's what they're used to."
A warming market
Houston's market for luxury housing is showing growth after a slow start to the year that paralleled the rest of the market. The Houston Association of Realtors' most recent findings from April show that volume rose by 7.8 percent from March, marking the third consecutive month of sales gains and the largest jump of 2019. Year-over-year, home sales were up 2.2 percent throughout Houston this April compared to April 2018's numbers.
The luxury market, defined by HAR as representing homes priced higher than $750,000, outpaced other categories in April. The number of luxury homes sold increased by 14.2 percent. Home prices in general increased. The average sale price for all existing single-family homes rose to $300,195.
The market has seemed somewhat sluggish to Jay Monroe of Martha Turner-Sotheby's International Realty. "The buyers are very price sensitive and they are looking for quality. They're not going to settle and they don't have to settle right now. Homes that are moving are ones that are not just new, but new and good. There are builders that think they want to enter the luxury market and don't really realize that it's not just a bigger version of your track homes. It has to be a higher caliber of home. Even little details, like knobs, hinges, doors and molding have to be good. You can't just expand your platform and expect people in the luxury market to buy it."
Gregory views Houston's character as a hospitable, Southern city as key to the stability of the market here, even when faced with particularly discerning buyers.
"We've never been subject to the huge upswings and downswings that you saw in the market crashes in California and in Nevada and Florida and New York," Gregory said. "We've always been more consistent. I think our climate, our attitude, our level of hospitality, all of those things draw people to Houston and to the state of Texas in general. The mentality is different. I think the perception of Texas as a place of opportunity has always been there. All of those elements have contributed to the stability of the luxury market."
The population boom that's helped fuel Houston's real estate market continued in 2018. According to the U.S. Census Bureau, the Houston-The Woodlands-Sugarland metropolitan region grew by 91,689 people, or 1.3 percent, to 6,997,384. Among the 10 largest metro areas in the country, only Dallas-Fort Worth-Arlington experienced more population growth. Texas Realtors found that the state grew by about 380,000 people, with about 63,000 coming from California.
The tax factor
Many people buying at the luxury end of the Houston market come from out of state. Texas' lack of a state income tax draws business owners to relocate from states that have high tax rates, such as California and New York.
In some cases, business owners are moving their companies wholesale to the Houston area, even from within Texas. Last year, XTO Energy moved 1,200 employees from Dallas after the company's acquisition by Exxon. Outside the energy sector, Houston is attracting companies in tech industries as well. Firms like RiceBran and Anatomy have left more expensive markets in California.
"If you look at states like New York and California and New Jersey, they are running businesses and individuals out of those states simply because of the high taxes," Gregory said. "Texas is one of those states where they find a haven. They can come here, relocate their businesses and relocate their families as well. They can bring their employees and relocate their entire workforce if that's the road they choose to take. And they can save more money and afford to purchase higher-end properties."
Oil remains the biggest factor in the Houston economy. "Commerce guys say that we're not as dependent on oil, but a certain amount of that is just whistling past the graveyard," Paul Bice said. "Oil remains the 800-pound gorilla in the Houston economy. We're pulling for oil prices to be over $60 a barrel. I think our economy here can do well all the way down to $50 a barrel. If it drops below that, no matter what else is going on in the city we'll be feeling it."
Though they may escape from having to pay state taxes on their incomes, Texas residents make up for that by paying high property taxes. In the Houston area, those taxes sometimes have a dampening effect on the higher end of the housing market.
"People come here from other parts of the country to get away from state income taxes, but they sometimes get their breath taken away when they see our property taxes," Paul Bice said. "The city of Houston has an incredible growth in revenue every year and the reason is that the value of the properties in the tax base just go up constantly. We need to be careful that we don't let the city sell us on the idea that we need to raise the taxes any higher than they are right now."
Fancy finishes
In previous years, size was a key determining factor for luxury housing. Ten or 20 years ago, Monroe had buyers building custom homes that were 10,000 or 12,000 square feet. When those buyers eventually decided to sell, they found there wasn't much of a market for such massive homes. Now, Houston buyers have moved away from that desire for homes with massive square footage in favor of properties with high-quality fixtures and accents.
"If someone does want to own something that significant, chances are they probably want their own castle, not someone else's castle," Monroe said. "Maybe they want to build their own homage to themselves. Generally speaking today, buyers come into houses that are even 6,000 and 7,000 square feet and say it's too much space and they really don't need it. They don't need home theater or two game rooms."
That doesn't mean they don't want space. Delana and Paul Bice find that luxury buyers are particularly interested in homes with extensive closet space and garages that are large enough for at least three cars. In some cases, the closets luxury buyers seek are as large as a master bedroom. Light and bright finishes are particularly appealing to luxury buyers.
"I've never seen an ad in the newspaper that said 'stunning dark and dingy,'" Paul Bice said. "Every ad you see says light and bright, and that's what's most appealing to the buyers. That frequently gets translated into homes that are either contemporary or modern, if not on the outside then for sure on the inside. Lots of windows and higher ceilings. In new construction, 12-foot ceilings have become pretty standard, along with lighter colors in terms of both paint, countertops, backsplashes and even floors."
Understanding that people at the luxury end of the market are educated buyers and want value for their money gives agents a chance to be successful with those clients.
"They function daily in an environment in which they are in charge at some level, and they know what they want and they have certain expectations," Gregory said. "If you're going to work in the luxury market and be successful, you have to expect that they may expect more from you and you have to be ready to deliver that."