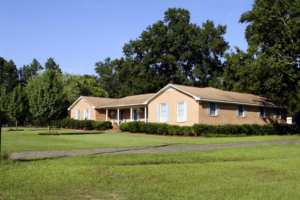 The practice of home flipping in the U.S. declining in strict numbers, even as it grows as a share of all home sales, according to a new report on the subject by ATTOM Data Solutions. The report looked at home flips across the country in Q1 and found that 49,059 homes changed hands by way of flipping during the quarter. That's a slight drop of 2 percent from the last quarter of 2018, and it's a substantial 8 percent dip from the number of flips a year earlier, in Q1 2018.
ATTOM Chief Product Officer Todd Teta said in a press release that home flippers may be pulling back due to fear of a worsening real estate market on the horizon: "With interest rates dropping and home price increases starting to ease, investors may be getting out while the getting is good, before the market softens further."
But flipping didn't drop everywhere in Q1. The report draws data from 138 metropolitan areas around the country, and shows that of those, 62 percent saw more home flipping than a year earlier. Houston was one of only a handful of metros with over a million people where more homes were flipped in Q1 year-over-year. According to the report, 41 percent more flips happened in the Houston metro area in Q1 than a year earlier.
As a proportion of all sales, flips are actually up, according to the report. The homes flipped in Q1 represented 7.2 percent of all home sales in the quarter, compared to 6.7 percent of all sales a year earlier. According to the authors of the report, it's the highest home-flipping rate since Q1 of 2010.
The average gross profit of homes flipped during Q1 was $60,000, which is $8,000 less than a year ago and is the lowest figure since Q1 of 2016. The average return on investment in Q1 of this year came to 38.7 percent — the lowest since Q3, 2011.
The numbers suggest some flippers continue to do quite well. That's because alongside that lower average ROI is a total dollar volume of $6.4 billion for financed home flip purchases — a 12-year high.
In select cities, flippers were able to more than double their money. Those include Pittsburgh, where the average return on investment on a flip in Q1 was 131.2 percent, and Knoxville, TN, where the average ROI was 105 percent.