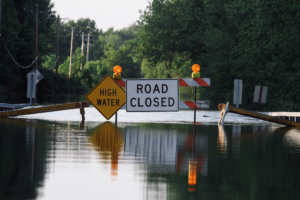 New development within flood plains in unincorporated areas of Harris County will now require developers to build five times as much water detention as they've had to in the past.
That's because Harris County Commissioners has approved a new set of rules governing building in flood zones, to take effect immediately. The Commissioners' unanimous vote will now require developers to build enough detention to prevent flooding in the 500-year floodplain that snakes through the area, flanking many bayous and rivers. These areas are thought to have a 0.2 percent chance of flooding in a given year.
Previously, the county's requirement covered the 100-year floodplain—areas thought to have a one percent chance of flooding in the span of a year.
The vote comes as Barry, the first tropical storm of the year to hit the Western Hemisphere, churns in the Gulf of Mexico, kicking off this year's hurricane season unusually early.
"We're analyzing how much a new development would increase flooding by and asking the developers to detain that much water so that the net effect is zero," Harris County Judge Lina Hidalgo told KHOU.
New construction development can contribute to flooding by paved roads giving water a clear path to flow toward lower ground, and the uprooting of natural vegetation can also create greater flooding risk.
Judge Hidalgo told the TV station that the building standard in the county hasn't seen an update since 1971.
Bill Baldwin, a board member of the Houston Association of Realtors and an agent with Boulevard Realty, noted that many of the areas that would be required to be used for detention would likely have been park space even without the heightened requirements. "Overall, it's a very positive step for the city and county to become more resilient," he said. "If it makes them more resilient, that's certainly better than flooding houses."