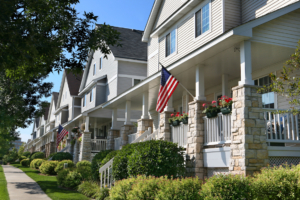 Growth in home prices this summer maintained a robust pace, thanks to persistently low inventory and, according to a new report, a new interest in buying homes among older millennials.
The CoreLogic Home Price Index for July shows a 3.6 percent rise over a year earlier. Prices rose or stayed the same in 48 states, and slipped year-over-year in only two states: Connecticut and South Dakota.
The report notes that older millennials—those in their 30s—are indicating a desire to get into the housing market after hesitating longer than previous generations.
"Sales of new and existing homes this July were up from a year ago, supported by low mortgage rates and rising family income," CoreLogic chief economist Dr. Frank Nothaft said in a press release about the new numbers. "With the for-sale inventory remaining low in many markets, the pick-up in buying has nudged price growth up. If low interest rates and rising income continue, then we expect home-price growth will strengthen over the coming year."
On a monthly basis, prices in July notched a slight rise of 0.5 percent over June levels. Last year, the same index showed a 6.2 percent increase in home prices over the previous year across the country in July.
In metro Houston, prices were up 2.4 percent this July from 2018. Statewide, the number was considerably better, with a 3.2 percent climb in prices over the same period throughout Florida. CoreLogic rated Boston's market "overvalued" in July, meaning prices are climbing within a range that is above historical norms for the area, and a price reckoning may be on the horizon.
CoreLogic estimates that 37 percent of the country's 100 largest metropolitan areas had an overvalued housing market as of this July. That's compared to 23 percent that were considered undervalued, and 40 percent where home prices were valued within a range considered to be about normal.
Looking toward next year, CoreLogic forecasts that by July, 2020, annual home price growth will quicken, rising to 5.4 percent over the next 11 months or so, due to continuing low inventory and a dearth of potential sellers willing to list their homes.
"A growing number of millennials are expressing an interest in buying homes, reinforcing the theory that this cohort is continuing to engage within the housing market," said Frank Martell, president and CEO of CoreLogic. "But, with so few homes available for sale, the imbalance has created an affordability crisis that is getting worse every day. Demand exceeds supply and we're unsure of when the two will balance out."