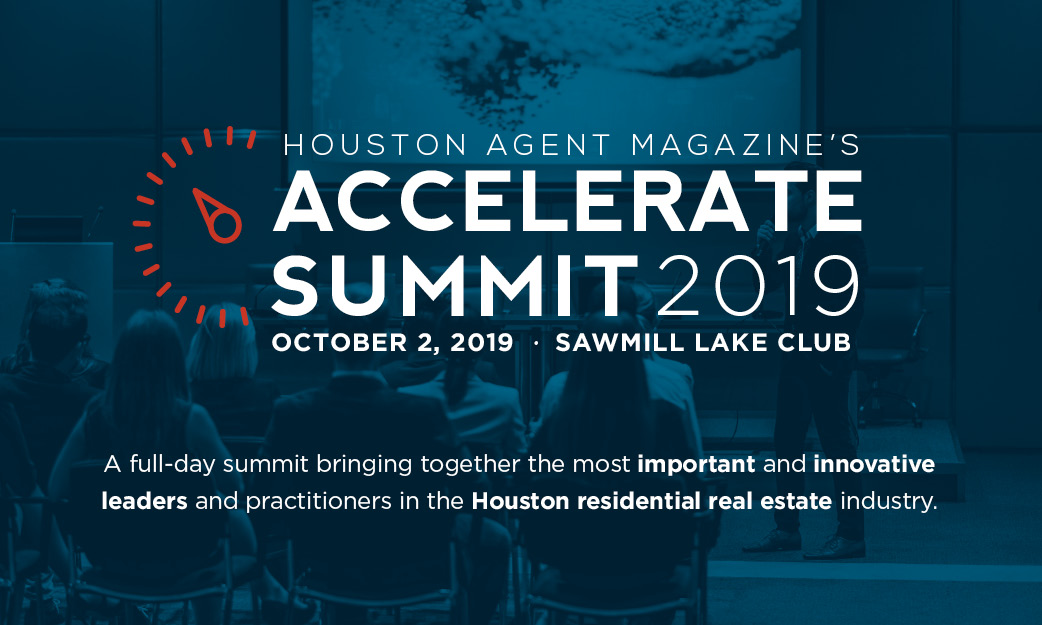 Houston Agent magazine, the leading source of news and information for the Houston real estate market, announced today that registration is officially open for their Accelerate Summit, taking place on Oct. 2, 2019.
Local developer Johnson Development will be a platinum sponsor and is hosting the premier event at the Sawmill Lake Club in their development known as Sienna. "We're excited to host Houston Agent magazine's Accelerate Summit this year. Professional brokers and real estate professionals will appreciate the caliber of speakers and session topics, as well as the beautiful lakeside venue," said Allison Bond, Director of Marketing for Sienna by Johnson Development.
In addition, Texas homebuilding company Highland Homes is a gold sponsor of the event and will offer Senior Vice President of Sales and Marketing Aaron Graham as one of the many industry experts who'll be presenting at the Summit.
The purpose of the summit is to help agents and brokers prepare for a changing market, as the competition for leads, listings and the attention of buyers and sellers heats up across Houston. It's modeled after a similar event put on by Agent Publishing in Chicago, which drew rave reviews from participants this past March.
"We're so excited to invite agents and brokers across Houston who want to take their careers to the next level to participate in this summit," said Anne Hartnett, managing partner of Agent Publishing. "This hyper-competitive market marks such a pivotal time for agents. We knew it was important to create an event where they could build relationships, identify best practices, and gain the necessary knowledge to execute a successful real estate career."
For Johnson Development, the partnership was a natural fit for their agent-focused approach to selling homes. "This event is for every broker and Realtor who likes to stay on top of buying trends and market developments, " Bond said. "I really think they'll appreciate that this conference is an ideal balance of national and local content. They'll leave informed and inspired!"
The summit is designed for active real estate professionals. This focus will result in programming that exceeds the expectations of working agents and brokers. "There will be a lot of actionable takeaways," Harnett said. "We're confident all attendees will return to the office with new ideas on how to be more impactful sales leaders."
Organizers intentionally avoided creating a typical conference, leaving the traditional expo hall out of their plans altogether. "We want attendees to engage with speakers, vendors and each other in a less formal atmosphere, so learning and networking come easier," said Hartnett. "It's more important to be engaged, and that's easier to do when you're all in the room together."