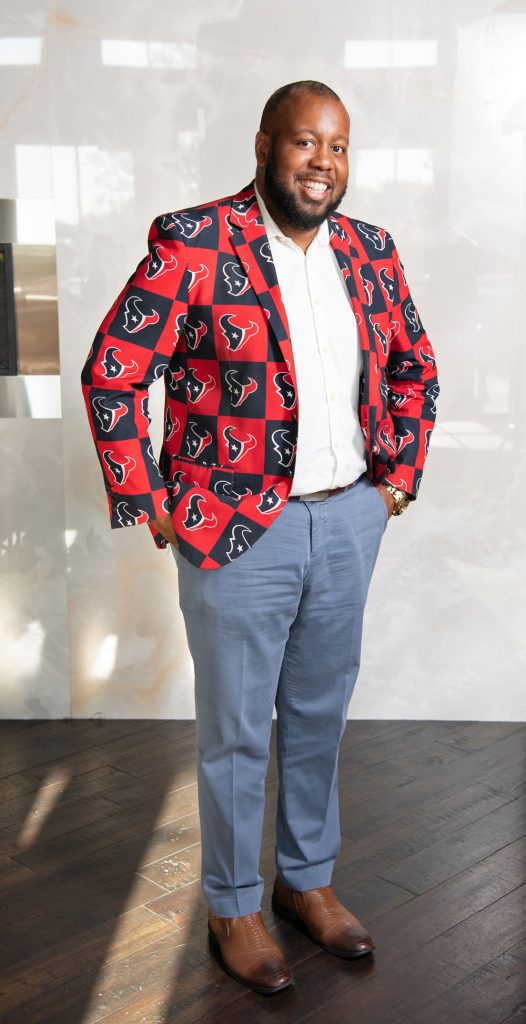 Describe your look: I love to wear a variety of different sport jackets that make a statement when I arrive at networking events.
What do you consider a "fashion don't"? A fashion 'don't' is when people wear a sports jacket but they don't tuck their shirt inside the pants.
What is your favorite piece of clothing and why? I always like to wear my Houston Texans sports jacket to most of my events.
What do you consider a must-have accessory? A must-have accessory for me is an exquisite watch on my wrist.
What is a fashion crime you have committed in the past? My fashion crime in the past was not pairing up matching colors from shirts and pants to look fly.
Where are your favorite places to shop? My favorite places to shop are express.com and shinesty.com.
What, besides your wardrobe, completes your look? A great pair of boots or shoes always complete my look.
What briefcase do you carry? I have a handmade vintage brown leather briefcase from The Leather Bags Gallery.
My closet is full of… sports coats and clothing from Express.
What is your style advice for other people in the industry?
Jacket: shinesty.com; white dress shirt and blue slacks: express.com; shoes: urbanoutfitters.com; watch, invictastores.com.