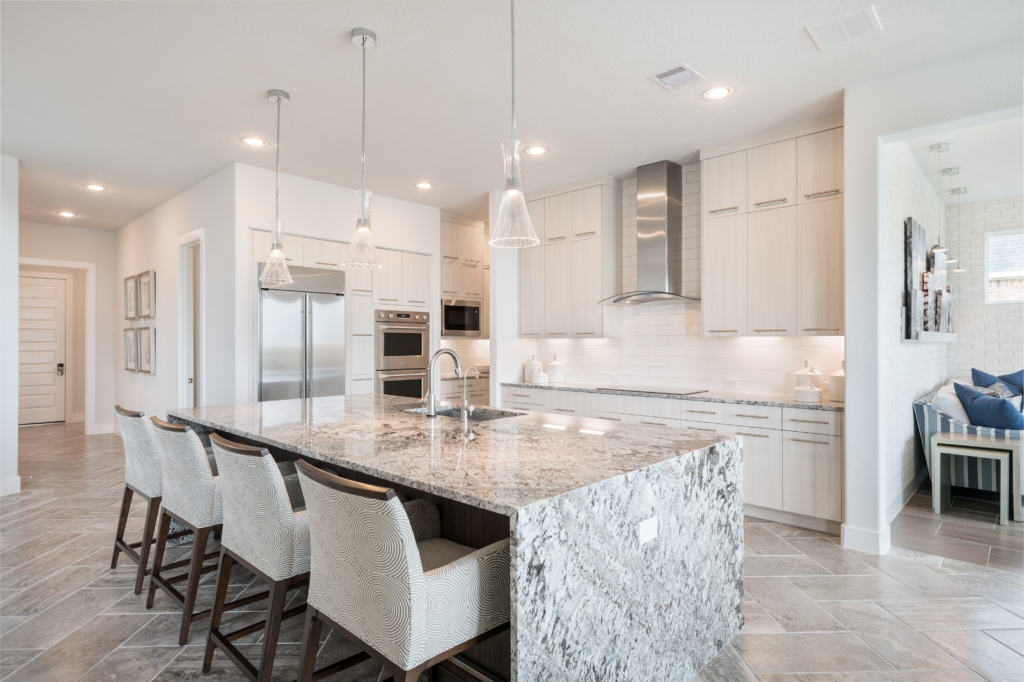 There are so many choices right now for countertops. What are the best ways to explain the difference to buyers? Yes, aesthetics are at the forefront of any design decision, but a material's durability, maintenance and cost are also important elements to consider, whether it's in a new home or a resale.
As the Design Studio manager for Trendmaker Homes, I often help homebuyers sift through a variety of choices so they can select what truly reflects their personal style.
The array of choices can make the selection process a bit daunting. However, knowing a little more about the options can make it much easier for real estate agents to assist their clients, whether they're buyers or sellers.
Granite
Definitely among the most popular choices for today's buyers, granite is a natural stone with a variety of patterns that ranges from simple to exotic. It also comes in a wide range of shades such as blacks, whites, greens, corals, and beiges. Since granite is a natural stone, each slab is unique. Granite is available in two finishes: A polished finish results in a shiny look and often darkens the appearance of the stone; a honed finish creates a softer, more natural matte look. Costs for granite depend on many variables including color, finish, and origin of the stone.
It's worth noting that granite is a very durable product that will last a lifetime if properly maintained. Like all natural stone though, it does require periodic sealing to protect it from life's little spills and mishaps. Most granite stands up well to scratching due to its natural density. Since granite was formed from the earth's hot core, it also holds up well to the average kitchen's hot items. Other natural stone materials like marble, limestone, and soapstone are softer than granite and require delicate use and greater care.
Man-made quartz
In my experience, Silestone, Cambria and other man-made quartz products are next in popularity for kitchen countertops. There are actually two reasons why manufactured quartz is so popular. First, because it's not porous and doesn't require sealing like its granite counterpart, maintenance is easy. Silestone or Cambria also have anti-microbial properties.
In fact, I like to recommend this option to customers who love the look of marble. While often showcased in magazines because of their beauty, marble counters are just not very practical. The extremely porous natural of marble means it reacts to anything acidic, and there are many acidic items in the kitchen including foods, soaps and cleaning solutions.
The only real drawback to this product is that it can be damaged by sudden or rapid changes in temperature, so hot pads must be used for dishes coming directly off the stove or out of the oven. Quartz tends to fall into the mid- to high-priced range, however, the cost of upgrading for easy maintenance and consistency in pattern might be worth it for peace of mind.
Natural quartz
Natural quartz is beautiful and has a soft pattern similar to that of marble, but is more durable and not as prone to stains. Compared to granite, natural quartz has the added benefit of being harder and non-porous, so it's nearly indestructible and easy to keep relatively bacteria-free.
While the higher price point of natural quartz tends to be the main reason it's not chosen as widely as granite or manufactured quartz, it is an absolutely gorgeous option and could be worth the cost if your budget allows. If your clients crave a kitchen with elegant natural beauty and durability, then natural quartz would be an investment they might want to consider seriously.
Soapstone
A usually dark gray natural stone with a smooth, silky feel, soapstone is often seen in historic homes, but is also used in modern residences as both a countertop and sink material. Over time, soapstone takes on an antique-like patina that can be very attractive in certain kitchen styles.
Contrary to many consumers' expectations, the architectural soapstone used for countertops is actually quite hard and resistant to stain. It will scratch over time, although this often adds to the antique patina look of the stone.
Wood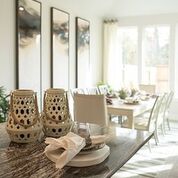 Available in a wide range of colors and finishes, butcherblock or other wood applications can offer a warm look to the kitchen. Hardwoods such as maple and oak are the most common types of countertop woods as they can best stand up to use.
Despite their beauty, we don't recommend wood countertops to Design Studio customers. While wood countertops create a unique style and can be long-lasting if cared for properly, they also require a high level of maintenance, are prone to damage from cuts and are very porous, making them more prone to swelling or splitting.
Laminates
Enjoying a recent surge in popularity thanks in part to a recent expansion in terms of the thousands of colors, patterns, and styles available, laminates are easy to clean and usually less expensive than many other materials.
However, because they are not heat- or scratch-resistant, they may not be the best option for those who run a very active kitchen. Formica, Nevamar and Wilsonart are a few popular brands of the smooth, plastic-coated synthetics.
How to choose?
When it comes to making the right countertop choice, consider what color and style will go best with the cabinets, backsplash, and floors. Look at pictures online and make a file of what stands out. Samples and swatches are always good ideas. HGTV recommends seeing the surface in person – whether that means visiting a showroom or viewing samples in-home – before making a decision.
If your clients can't decide on just one material, you can encourage them to mix and match! Kitchen islands are a good place to try something different from the rest of the counters. For example, installing dark granite on the main counters and a lighter one for the island, or having a small butcherblock work surface next to the stovetop with engineered stone elsewhere can be a great way to differentiate the space and create contrast.
Counters will always be one of the most important items your buyers will select in their home for both aesthetics and functional reasons. Now you can help them make the right choice!