New-home sales slid 5.9% on a seasonally adjusted, monthly basis to 769,000 in May, while the median sales price rose to $374,400 from $365,300 in April, the U.S. Census Bureau and the Department of Housing and Urban Development reported.
Annually, new-home sales were up 9.2%.
The seasonally adjusted estimate of new houses for sale at the end of May was 330,000, representing a supply of 5.1 months at the current sales rate.
By region, the number of new homes sold in the Northeast soared by 33.3% to 52,000 on an adjusted basis, while they were flat in the Midwest at 95,000, up by 6.7% in the West at 190,000 and down by 14.5% in the South to 432,000.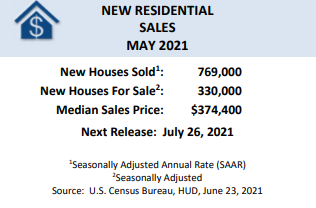 "Right now, we view the shortage of housing inventory as the primary limiting factor for home sales as we start looking forward into the second half of the year," Keller Williams chief economist Ruben Gonzalez said in an email. "These restrictive conditions in the existing home market should continue to drive new construction, as well as strong demand driven by the continued economic recovery and sustained low interest rates."