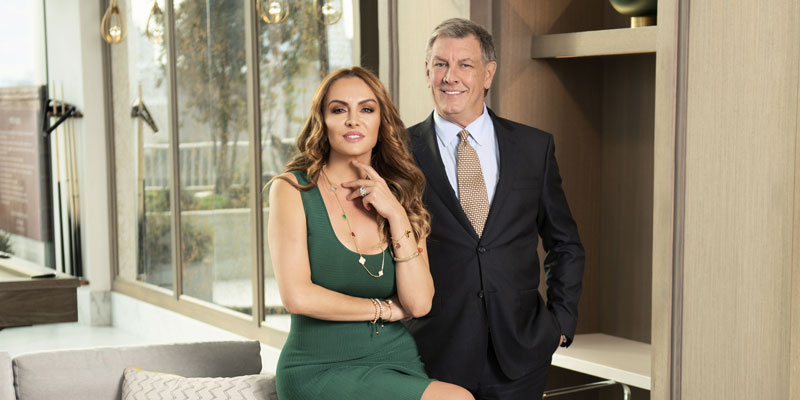 Carmina Zamorano, CEO & Founder
Neal Hamil, President
Carnan Properties
Carmina Zamorano is the CEO and founder of Carnan Properties, a full service, multilingual luxury boutique real estate company based in Houston and Mexico City. The company assists residential and commercial buyers and sellers, as well as works with builders, developers and other partners to create, brand and market properties.
"Carnan is a hybrid: It's one of two brokerages with builder and developer services," Zamorano says. "We consult on luxury condos and townhomes with our clients, from site selection to product to marketing and sales, as well as a traditional brokerage on the resale side of the market, where we represent traditional buyers and sellers."
Neal Hamil, president of Carnan Properties, began his real estate career in Houston after an early retirement from a career in model and talent management in New York. He says his life in the Big Apple as an agent and executive for both Ford Models, Inc. and Elite Model Management helped prepare him for the demanding world of real estate.
"The business models of a top brokerage and a top talent management firm are incredibly similar, which made the transition for me
surprisingly easy," Hamil says. With multiple offices in many countries, Zamorano quickly discovered that real estate was her passion. As an owner of considerable real estate holdings herself, Zamorano is a visionary who approaches everything she does with extraordinary drive and determination.
She and Hamil personally selected their team, intentionally bringing together a mixture of seasoned professionals and energetic newcomers, many with family histories in Houston that stretch back multiple generations. Carnan Properties contributes to organizations that support women, children and the arts, such as Haras Cup Working Equitation, Latin Women's Initiative and Virtuosi of Houston.