The Harris County Housing Authority is pleased to announce that Cypresswood Estates, a first-of-its-kind affordable senior housing residence, is scheduled to officially receive Leadership in Energy and Environmental Design (LEED) Platinum certification for "green" additions made to the property. The northwest Houston residence will officially open its doors featuring the new improvements on Tuesday, September 27, with a grand opening ceremony.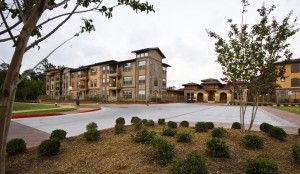 To receive LEED certification status, Cypresswood Estates must have had a committee of LEED volunteers and staff, as well as a technical advisory group, reach a consensus that the estate met LEED environmental standards.
Current residents of Cypress Estates are looking forward to the green lifestyle and sustainable features the new developments promise, including solar panels, recycled cellulose, and DOW thermax insulation.
Cypresswood Estate's grand opening ceremony will feature keynote speaker Saul Ramirez, chief executive officer of the National Association of Housing and Redevelopment Officials, as well as a special presentation from the local chapter of the U.S. Green Building Council, which will be awarding a plaque to Cypress Estates in recognition of meeting LEED Platinum standards.