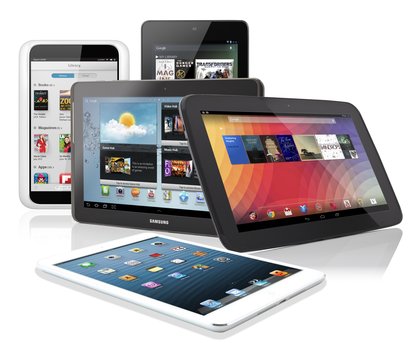 Whether it's an iPad, the Samsung Galaxy Tab or a Kindle Fire, the usage of tablets is growing fast. A study conducted by Staples predicted that there will be 82.1 million tablet users in the United States by 2015. Why should you get on the bandwagon? Because tablets can help agents make business a lot easier:
It allows you to pull up pricing information online. When you're showing a house to your clients, you will instantly be prepared with all the information. Plus, you don't have to worry about searching through all of those papers, because you have all the information you need on your screen.
You can create video tours. Even better than virtual tours, you can walk through a listing with your tablet and upload it instantly to a website or YouTube account. It's quick, simple and shows more detail – exactly what buyers want.
Your tablet can contain time-saving apps! There is an app for everything. Some of our favorites for agents include Dropbox (a file sharing app), Documents to Go (which lets agents use their iPad to read all their documents, from Word files to Excel spreadsheets) and SignMyPad (which takes the hassle out of filling out and sending contracts that come in the PDF format). They also make apps which will allow agents to access their office desktop computer while they are on the road.
It allows you to easily snap and send pictures to clients. The photo quality is better than a smartphone, and the process is quicker than waiting to go home and upload it to your desktop.
You can create hassle-free presentations using Keynote. Not only do you not have to worry about hooking up a big, heavy laptop, but you also don't have to worry about Wi-Fi problems. Keynote does not require any Internet connection, and allows you to create slideshows and presentations quickly and easily.