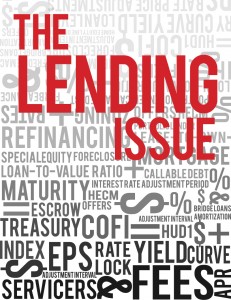 During the housing boom, loans were easy to come by. After the housing bubble burst, the reaction was extremely opposite from banks: tighten all guidelines. Now, although the market has improved, it can still be a challenge for buyers to obtain a loan due to a variety of challenges. However, some government changes might be able to change that in the near future, or at least help ease the current challenges buyers have. Not up-to-date on these topics and other lending industry news? Houston Agent gathered the latest information right here. Read on to learn what's in store for the lending industry in 2014.
Rising mortgage rates this year could effect both the sellers and buyers, as  homeowners could become more hesitant to sell their properties, according to Nick Marascia, branch manager of Guaranteed Rate.
"One of the things that strikes me the most is there were a lot of people that were able to lock in historically low rates near refinance over the last few years," Marascia says. "The new payments might scare them off a little bit."
However, with Houston experiencing the current low inventory levels as previously reported by Houston Agent, Marascia thinks they will remain lower, which can increase competition in Houston and Dallas markets.
"A lot of our clients are in multiple offer situations, going above list price," Marascia says. "That low inventory can result in new construction home building picking up, which is something the Houston and Dallas markets are very focused on."
Senior Loan Officer Amanda Wilkie of Amcap Mortgage, Ltd. in The Woodlands, TX, explains how rising rates could have an impact on home buyers buying power.
"For example, higher rates may limit some home buyers on the amount of home they can purchase this year," Wilkie says. "Although rates are predicted to rise, I am remaining optimistic about the strong housing market in Houston. I think there is too much demand here for housing in Houston that higher rates won't deter too many of our home buyers."
As we previously reported, the National Association of Realtors stated in their latest report on existing home sales in January that median home prices continue to rise as a result of inventory remaining extremely low, the median existing-home price jumping to 10.7 percent from January 2013.
What specific changes in mortgage loans will affect the Houston market in 2014?