Ever-present cellphones create new social habits – and opinions on them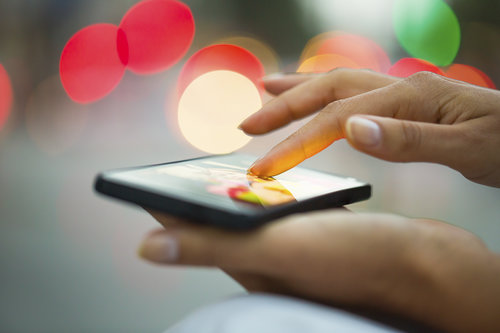 It's virtually impossible to go anywhere without seeing someone on their cellphone, whether they're talking, texting, answering emails, using apps or social media, or listening to music. Cellphones have become a key part of life for Americans, which begs the question of when it is or isn't okay to use your phone.
A new study from Pew Research Center detailed both how frequently people used their phones, and their opinions on when it was and wasn't acceptable to use their phones. Here are five of the most notable findings from the report:
1. People Always Have Their Phones – Ninety-two percent of U.S. adults own a cellphone of some kind, and 90 percent of them say their phone is always with them. Thirty-one percent of cellphone owners say they never turn their phone off, and 45 percent rarely turn it off.
2. Different Settings Warrant Different Behavior – Seventy-seven percent of adults think it is okay to use a cellphone while walking down the street, and 75 percent think it is okay to use phones on public transit. In a social situation, such as in a restaurant, the percentage of people who think it is acceptable to use a cellphone drops to 38 percent. At a family dinner, only 12 percent think cellphone use is acceptable. Using a cellphone during a meeting was only viewed by acceptable by 5 percent.
3. People use Phones Despite the Setting – Despite 82 percent of adults saying that by using a phone during a conversation it hurts the conversation, 89 percent of cellphone owners say they used their phone during their most recent social outing. Eighty-six percent say that cell phone use by someone else occurred at their latest gathering. Twenty-five percent of cellphone owners say that using their phone takes some of their attention away from the people they are with at the time.
4. Smartphone Use in Social Settings – A large portion of people who use their cellphones at social events are doing so in a way that relates to the social gathering. Forty-five percent of people used their phone to post a picture or video they had taken; 41 percent used their phone to share something that had happened through text, email or social media; 38 percent used their phone to get information for the group; and 31 percent used their phone to connect with other people from the group they were with.
While there is a subset of people who use cellphones to retreat from the group, only 30 percent cited an anti-social reason, compared to the 78 percent who cited a social reason.
5. A Higher Tolerance Among Young Adults – Although people of all ages generally agree about when it is okay or not to use cellphones in public settings, overall, the 18-29 age group is far more tolerant to using cellphones in both public and private. Fifty percent of people age 18-29 feel it is okay to use a cellphone at a restaurant, versus 26 percent of people ages 65 and up. During a meeting, 10 percent of people age 18-29 feel it is acceptable to use a cellphone, versus 2 percent of age 65 and up.