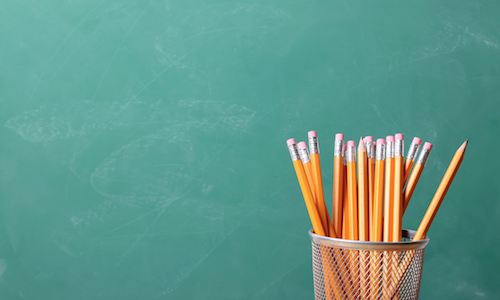 Good schools are a grace to real estate agents, because every homebuyer with kids wants to be near one, and many are willing to pay a premium for the convenience.
In Greater Houston alone there are over 400 high schools. Some good, some middling, and some that probably won't help you sell a neighborhood.
We've combed through pages of rating data from Texas' Department of Education, and in a multi-part series, we'll be publishing each Greater Houston county's top high schools by graduation rate.
For the first part of our series, we give you Harris County, starting with Somerset Academy, a charter school in Davie, which received top marks in English, mathematics and science achievement.
See the rest below:
1-32
| School Name | District | Graduation Rate |
| --- | --- | --- |
| Southwest H S | Southwest School | 100.0 |
| Harmony School Of Advancement | Harmony School Of Excellence | 100.0 |
| Victory Early College H S | Aldine ISD | 100.0 |
| Kerr H S | Alief ISD | 100.0 |
| Alief Early College H S | Alief ISD | 100.0 |
| Perfor & Vis Arts H S | Houston ISD | 100.0 |
| Debakey H S For Health Prof | Houston ISD | 100.0 |
| Eastwood Academy | Houston ISD | 100.0 |
| North Houston Early College H S | Houston ISD | 100.0 |
| Mount Carmel Academy | Houston ISD | 100.0 |
| Carnegie Vanguard H S | Houston ISD | 100.0 |
| Challenge Early College H S | Houston ISD | 100.0 |
| East Early College H S | Houston ISD | 100.0 |
| Quest Early College H S | Humble ISD | 100.0 |
| Law Enfcmt-Crim Just H S | Houston ISD | 99.1 |
| Challenge Early College H S | Houston ISD | 99.0 |
| Seven Lakes H S | Katy ISD | 98.8 |
| Cypress Woods H S | Cypress-Fairbanks ISD | 98.5 |
| Westchester Academy For International Studies | Spring Branch ISD | 98.5 |
| Kipp Houston H S | Kipp Inc Charter | 98.4 |
| Southwest H S | Southwest School | 98.2 |
| Cypress Ranch H S | Cypress-Fairbanks ISD | 97.9 |
| Cinco Ranch H S | Katy ISD | 97.8 |
| Sharpstown International School | Houston ISD | 97.7 |
| Harmony Science Academy | Harmony Science Academy | 97.5 |
| Jordan H S | Houston ISD | 97.3 |
| Memorial H S | Spring Branch ISD | 97.3 |
| Houston Gateway Academy – Coral Campus | Houston Gateway Academy Inc | 97.1 |
| Mount Carmel Academy | Houston ISD | 97.1 |
| Yes Prep – East End | Yes Prep Public Schools Inc | 96.9 |
| Houston Academy For International | Houston ISD | 96.8 |
| Kingwood H S | Humble ISD | 96.7 |
33-65
| School Name | District | Graduation Rate |
| --- | --- | --- |
| Reagan H S | Houston ISD | 96.5 |
| Humble H S | Humble ISD | 96.5 |
| Hargrave H S | Huffman ISD | 96.5 |
| Taylor H S | Katy ISD | 96.0 |
| Summer Creek H S | Humble ISD | 95.9 |
| Crosby H S | Crosby ISD | 95.7 |
| Energized For Stem Academy West | Houston ISD | 95.7 |
| Kingwood Park H S | Humble ISD | 95.7 |
| Klein Oak H S | Klein ISD | 95.6 |
| Lamar H S | Houston ISD | 95.5 |
| Klein Collins H S | Klein ISD | 95.5 |
| Tomball H S | Tomball ISD | 95.4 |
| Cypress Ridge H S | Cypress-Fairbanks ISD | 95.3 |
| Carver H S For Applied Tech/Engine | Aldine ISD | 95.2 |
| Cy-Fair High School | Cypress-Fairbanks ISD | 95.1 |
| Crosby H S | Crosby ISD | 94.8 |
| Carver H S For Applied Tech/Engine | Aldine ISD | 94.7 |
| Furr H S | Houston ISD | 94.7 |
| Klein H S | Klein ISD | 94.6 |
| Stratford H S | Spring Branch ISD | 94.6 |
| Goose Creek Memorial | Goose Creek CISD | 94.5 |
| Reagan H S | Houston ISD | 94.4 |
| Summer Creek H S | Humble ISD | 94.3 |
| Westside H S | Houston ISD | 94.1 |
| Yes Prep – North Central | Yes Prep Public Schools Inc | 94.0 |
| Pasadena Memorial High School | Pasadena ISD | 94.0 |
| Yes Prep – Southeast | Yes Prep Public Schools Inc | 93.9 |
| Comquest Academy | Comquest Academy | 93.8 |
| Channelview H S | Channelview ISD | 93.7 |
| Atascocita H S | Humble ISD | 93.7 |
| Katy H S | Katy ISD | 93.7 |
| La Porte H S | La Porte ISD | 93.7 |
| Cypress Lakes H S | Cypress-Fairbanks ISD | 93.6 |
66-99
| School Name | District | Graduation Rate |
| --- | --- | --- |
| Stratford H S | Spring Branch ISD | 93.5 |
| Hastings H S | Alief ISD | 93.3 |
| Cypress Creek H S | Cypress-Fairbanks ISD | 93.2 |
| Langham Creek H S | Cypress-Fairbanks ISD | 93.2 |
| Yes Prep – North Central | Yes Prep Public Schools Inc | 93.1 |
| Elsik H S | Alief ISD | 93.0 |
| Lamar H S | Houston ISD | 92.3 |
| Davis H S | Houston ISD | 92.2 |
| Harmony Science Academy | Harmony Science Academy | 91.5 |
| Yes Prep – Southwest | Yes Prep Public Schools Inc | 91.4 |
| Cypress Falls H S | Cypress-Fairbanks ISD | 91.4 |
| C E King H S | Sheldon ISD | 91.3 |
| Westside H S | Houston ISD | 91.2 |
| Klein Forest H S | Klein ISD | 91.2 |
| Dobie H S | Pasadena ISD | 91.2 |
| Jersey Village High School | Cypress-Fairbanks ISD | 91.0 |
| Galena Park H S | Galena Park ISD | 90.6 |
| Sam Rayburn H S | Pasadena ISD | 90.6 |
| Mayde Creek H S | Katy ISD | 90.4 |
| Deer Park H S | Deer Park ISD | 90.2 |
| Sterling H S | Goose Creek CISD | 90.0 |
| Morton Ranch H S | Katy ISD | 89.9 |
| Dobie H S | Pasadena ISD | 89.9 |
| Spring H S | Spring ISD | 89.8 |
| Phoenix School At Southwest School | Southwest School | 89.7 |
| North Shore Senior High | Galena Park ISD | 89.3 |
| Raul Yzaguirre School For Success | Raul Yzaguirre School For Success | 89.1 |
| Westfield H S | Spring ISD | 88.7 |
| Austin H S | Houston ISD | 88.6 |
| Bellaire H S | Houston ISD | 88.4 |
| Taylor H S | Alief ISD | 88.0 |
| South Houston High School | Pasadena ISD | 87.5 |
| Eisenhower H S | Aldine ISD | 87.1 |
| George I Sanchez H S | George I Sanchez Charter | 86.9 |