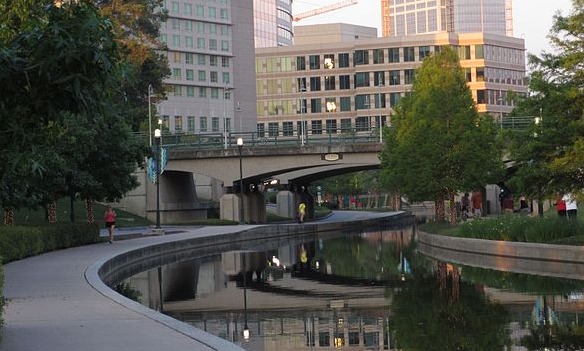 When George Mitchell created The Woodlands in 1974, he probably didn't expect that it would evolve into what it is today – which is something much bigger and more economically diverse than when it started.
In 2000, The Woodlands area had a population of a little over 99,000 – about double its population of 46,000 from 20 years ago. It's expected to have doubled again to around 221,000 by 2020.
Population growth in The Woodlands is a product of its economy. There are 60 companies in the area that employ at least 100 people, and seven that employ more than 1,000 – including the Anadarko Petroleum Corporation and Conroe ISD, which combined provide 7,435 jobs. The energy sector took a huge hit last year, with low oil prices forcing widespread job cuts. And as The Woodlands' No. 1 sector, representing 32 percent of its economy, it hurt the community. But still unemployment in the area is at 2.9 percent, far better than Montgomery County's overall rate of 4.1 percent. Over the years the area's economy has diversified, and it's allowing for strong growth even through tough times.
"When we moved from Chicago to The Woodlands, we were not even $1 billion in annual revenues. Now we're $13 billion in revenue," said Beth Bailey, executive vice president and chief administration officer of Chicago Bridge & Iron Company, who recently spoke at a panel hosted by the Houston Business Journal to discuss the future of the master-planned community.
A clear vision for The Woodlands
One of the panel's biggest topics was the direction of development in The Woodlands, because four decades after its founding, the 28,000-acre master-planned community is nearing buildout. It has only 1,000 single-family home lots left to develop.
"It was never the vision for The Woodlands to be a bedroom community for the city of Houston," said Alex Sutton, co-president of The Woodlands Development Co. "It was always the vision to create a place where residents can live, work and play."
Sutton went on to elaborate that the "live, work and play" vision includes higher-density projects, like Hughes Landing, which blends office, living and retail space into what amounts to micro neighborhoods, where people can literally live, work and play all in the same immediate area.
There are currently plans to build a 23-story luxury condo tower at Waterway Square, and Debbie Sukin, CEO of Houston Methodist The Woodlands, which recently opened in the area, said that "we're creating our own mini Texas Medical Center here." 2017 will be a defining year for the future of The Woodlands.
---
Photo Credit: Creative Commons Attribution-Share Alike 3.0 Unported