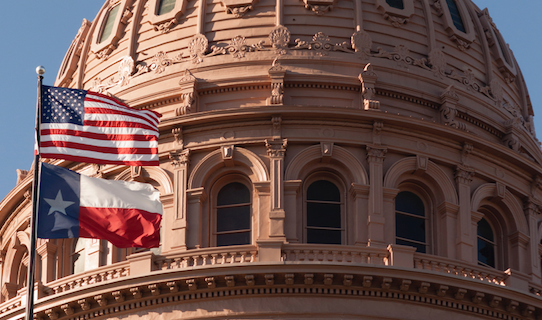 Today, the Texas Association of Realtors released its endorsements for the U.S. House of Representatives, as well as the Texas State Senate, House of Representatives and Supreme Court.
Association Chairman Leslie Rouda Smith commented on the selections, saying that TAR is supporting the candidates "because they are committed to protecting the rights of Texas property owners at the state and federal level." Rouda went on to clarify that the association's primary focus this legislative session will be property-tax relief.
To add further insight to the endorsements, Houston Agent poured over historical campaign contribution data to find which candidates have received contributions from Realtor associations and how much they have received throughout their careers. In Texas, no candidate has received more contributions than Republican State Speaker Joe Straus from the 121st District, to whom Texas Realtors have donated more than $280,000. Overall, the association has donated $4.39 million to more than 200 candidates.
See the totality of Texas Realtors' endorsements below:
U.S. House of Representatives
| Election | Endorsement | Assocation Contribution(s) |
| --- | --- | --- |
| District 1 | Louie Gohmert (R) | $15,000 from the National Association of Realtors (NAR) |
| District 2 | Ted Poe (R) | $17,000 from the Illinois Association of Realtors (IAR) |
| District 3 | Sam Johnson  (R) | $25,000 from NAR |
| District 4 | John Ratcliffe  (R) | $9,000 from NAR |
| District 5 | Jeb Hensarling (R) | $23,000 from NAR |
| District 6 | Joe Barton(R) | $33,990 from NAR |
| District 7 | John Culberson (R) | $32,000 from NAR |
| District 8 | Kevin Brady (R) | $28,990 from NAR |
| District 9 | Al Green (D) | $26,990 from NAR/$4,000 from RPAC |
| District 10 | Michael McCaul (R) | $29,000 from NAR |
| District 11 | Mike Conaway (R) | $22,500 from NAR |
| District 12 | Kay Granger (R) | $20,000 from IAR/$16,000 from NAR |
| District 13 | Mac Thornberry (R) | $15,000 from NAR |
| District 14 | Randy Weber (R) | $9,000 from NAR |
| District 15 | Vicente Gonzalez (D) | None |
| District 17 | Bill Flores (R) | $18,000 from NAR |
| District 18 | Sheila Jackson Lee (D) | $19,000 from the Texas Association of Realtors (TAR)/$9,000 from NAR |
| District 19 | Jodey Arrington (R) | None |
| District 20 | Joaquin Castro (D) | $20,000 from NAR/$10,500 from TAR |
| District 21 | Lamar Smith (R) | $27,000 from NAR |
| District 22 | Pete Olson (R) | $13,000 from IAR/$9,000 from NAR |
| District 23 | Will Hurd (R) | $5,500 from NAR |
| District 24 | Kenny Marchant (R) | $33,950 from NAR/$10,250 from TAR |
| District 25 | Roger Williams (R) | $20,000 from NAR |
| District 26 | Michael Burgess (R) | $20,000 from NAR |
| District 27 | Blake Farenthold (R) | $7,000 from NAR |
| District 28 | Henry Cuellar (D) | $5,000 from NAR |
| District 29 | Gene Green (D) | $35,000 from NAR |
| District 30 | Eddie Bernice Johnson (D) | $13,000 from IAR/$9,000 from NAR |
| District 31 | John Carter (R) | $32,000 from NAR |
| District 32 | Pete Sessions (R) | $36,000 from NAR |
| District 33 | Marc Veasey (D) | $25,000 from IAR/$5,000 from NAR |
| District 34 | Filemon Vela (D) | $14,000 from IAR/$3,000 from NAR |
| District 35 | Lloyd Doggett (D) | $33,000 from NAR |
| District 36 | Brian Babin (R) | $15,000 from NAR |
State Senate
| Election | Endorsement | Assocation Contribution(s) |
| --- | --- | --- |
| District 1 | Bryan Hughes (R) | $114,280 from TAR |
| District 4 | Brandon Creighton (R) | $99,500 from TAR |
| District 6 | Sylvia Garcia (D) | $15,000 from TAR |
| District 11 | Larry Taylor (R) | $80,724 from TAR |
| District 12 | Jane Nelson (R) | $92,500 from TAR |
| District 13 | Borris Miles (D) | $6,500 from TAR |
| District 18 | Lois Kolkhorst (R) | $24,154 from TAR |
| District 19 | Carlos Uresti (D) | $82,270 from TAR |
| District 20 | Juan "Chuy" Hinojosa (D) | $124,996 from TAR |
| District 21 | Judith Zaffirini (D) | $107,500 from TAR |
| District 22 | Brian Birdwell (R) | $30,000 from TAR |
| District 24 | Dawn Buckingham (R) | None |
| District 26 | Jose Menéndez (D) | $94,298 from TAR |
| District 27 | Eddie Lucio Jr. (D) | $112,681 from TAR |
| District 28 | Charles Perry (R) | $29,000 from TAR |
| District 29 | José Rodréguez (D) | $40,224 from TAR |
State House of Representatives
| Election | Endorsement | Assocation Contribution(s) |
| --- | --- | --- |
| District 1 | Gary VanDeaver (R) | $6,036 from TAR |
| District 2 | Dan Flynn (R) | $57,409 from TAR |
| District 3 | Cecil Bell (R) | $2,000 from TAR |
| District 4 | Lance Gooden (R) | $18,325 from TAR |
| District 5 | Cole Hefner (R) | $5,000 from TAR |
| District 7 | Jay Dean (R) | $15,000 from TAR |
| District 8 | Byron Cook (R) | $74,475 from TAR |
| District 9 | Chris Paddie (R) | $57,673 from TAR |
| District 10 | John Wray (R) | $30,598 from TAR |
| District 11 | Travis Clardy (R) | $23,529 from TAR |
| District 12 | Kyle Kacal (R) | $11,000 from TAR |
| District 13 | Leighton Schubert (R) | $1,000 from TAR |
| District 14 | John Raney (R) | $32,000 from TAR |
| District 15 | Mark Keough (R) | $1,000 from TAR |
| District 16 | Will Metcalf (R) | No record |
| District 17 | John Cyrier (R) | $53,097 from TAR |
| District 18 | Ernest Bailes (R) | $18,325 from TAR |
| District 19 | James White (R) | $5,500 from TAR |
| District 20 | Terry Wilson (R) | None |
| District 21 | Dade Phelan (R) | None |
| District 22 | Joe Deshotel (D) | No record |
| District 23 | Wayne Faircloth (R) | $6,000 from TAR |
| District 24 | Greg Bonnen (R) | $14,796 from TAR |
| District 25 | Dennis Bonnen (R) | $53,523 from TAR |
| District 26 | Rick Miller (R) | None |
| District 27 | Ron Reynolds (D) | $4,500 from TAR |
| District 28 | John Zerwas (R) | $23,500 from TAR |
| District 29 | Ed Thompson (R) | $4,500 from TAR |
| District 30 | Geanie Morrison (R) | $22,402 from TAR |
| District 31 | Ryan Guillen (D) | $21,397 from TAR |
| District 32 | Todd Hunter (R) | $49,051 from TAR |
| District 33 | Justin Holland (R) | $183,785 from TAR |
| District 34 | Abel Herrero (D) | $20,775 from TAR |
| District 35 | Oscar Longoria (D) | $8,578 from TAR |
| District 36 | Sergio Muñoz, Jr. (D) | $8,288 from TAR |
| District 37 | René Oliveira (D) | $89,004 from TAR |
| District 38 | Eddie Lucio III (D) | $16,500 from TAR |
| District 39 | Armando "Mando" Martinez (D) | $11,904 from TAR |
| District 40 | Terry Canales (D) | $4,318 from TAR |
| District 41 | Robert "Bobby" Guerra (D) | $4,142 from TAR |
| District 42 | Richard Peña Raymond (D) | $12,750 from TAR |
| District 43 | J.M. Lozano (R) | $5,000 from TAR |
| District 44 | John Kuempel (R) | $41,500 from TAR |
| District 45 | Jason Isaac (R) | $24,273 from TAR |
| District 47 | Paul Workman (R) | $53,330 from TAR |
| District 48 | Donna Howard (D) | $11,757 from TAR |
| District 49 | Gina Hinojosa (D) | $1,000 from TAR |
| District 50 | Celia Israel (D) | $172,679 from TAR |
| District 51 | Eddie Rodriguez (D) | $13,250 from TAR |
| District 52 | Larry Gonzales (R) | $34,633 from TAR |
| District 53 | Andrew Murr (R) | $1,000 from TAR |
| District 54 | Scott Cosper (R) | None |
| District 55 | Hugh Shine (R) | $5,000 from TAR |
| District 56 | Charles "Doc" Anderson (R) | $9,500 from TAR |
| District 57 | Trent Ashby (R) | $18,500 from TAR |
| District 58 | DeWayne Burns (R) | $55,685 from TAR |
| District 59 | J.D. Sheffield (R) | $5,000 from TAR |
| District 61 | Phil King (R) | $23,000 from TAR |
| District 62 | Larry Phillips (R) | $52,653 from TAR |
| District 63 | Tan Parker (R) | $19,368 from TAR |
| District 64 | Lynn Stucky (R) | $22,190 from TAR |
| District 65 | Ron Simmons (R) | $13,000 from TAR |
| District 66 | Matt Shaheen (R) | None |
| District 67 | Jeff Leach (R) | $23,196 from TAR |
| District 68 | Drew Springer (R) | $9,107 from TAR |
| District 69 | James Frank (R) | $4,500 from TAR |
| District 70 | Scott Sanford (R) | $5,414 from TAR |
| District 71 | Stan Lambert (R) | None |
| District 72 | Drew Darby (R) | $109,055 from TAR |
| District 74 | Alfonso "Poncho" Nevárez (D) | $4,500 from TAR |
| District 75 | Mary González (D) | $15,282 from TAR |
| District 76 | César Blanco (D) | $7,919 from TAR |
| District 77 | Evelina Ortega (D) | None |
| District 78 | Joe Moody (D) | $7,325 from TAR |
| District 79 | Joe Pickett (D) | $80,000 from TAR |
| District 80 | Tracy O. King (D) | $18,500 from TAR |
| District 81 | Brooks Landgraf (R) | $15,150 from TAR |
| District 82 | Tom Craddick (R) | $167,500 from TAR |
| District 83 | Dustin Burrows (R) | $1,000 from TAR |
| District 84 | John Frullo (R) | $10,583 from TAR |
| District 85 | Phil Stephenson (R) | $2,000 from TAR |
| District 86 | John Smithee (R) | $28,000 from TAR |
| District 87 | Walter "Four" Price (R) | None |
| District 88 | Ken King (R) | $2,024 from TAR |
| District 89 | Jodie Laubenberg (R) | $51,800 from TAR |
| District 90 | Ramon Romero, Jr. (D) | $1,275 from TAR |
| District 91 | Stephanie Klick (R) | No record |
| District 92 | Jonathan Stickland (R) | $2,500 from TAR |
| District 93 | Matt Krause (R) | $1,000 from TAR |
| District 94 | Tony Tinderholt (R) | $2,500 from TAR |
| District 95 | Nicole Collier (D) | $1,076 from TAR |
| District 96 | Bill Zedler (R) | $41,603 from TAR |
| District 97 | Craig Goldman (R) | $4,521 from TAR |
| District 98 | Giovanni Capriglione (R) | $8,561 from TAR |
| District 99 | Charlie Geren (R) | No record |
| District 100 | Eric Johnson (D) | $5,347 from TAR |
| District 101 | Chris Turner (D) | $27,079 from TAR |
| District 102 | Linda Koop (R) | $8,500 from TAR |
| District 103 | Rafael Anchia (D) | $12,522 from TAR |
| District 104 | Roberto Alonzo (D) | $13,575 from TAR |
| District 105 | Rodney Anderson (R) | $5,000 from TAR |
| District 106 | Pat Fallon (R) | $2,500 from TAR |
| District 107 | Kenneth Sheets (R) | $20,024 from TAR |
| District 108 | Morgan Meyer (R) | $3,000 from TAR |
| District 109 | Helen Giddings (D) | $17,088 from TAR |
| District 110 | Toni Rose (D) | $8,825 from TAR |
| District 111 | Yvonne Davis (D) | $28,000 from TAR |
| District 112 | Angie Chen Button (R) | $20,565 from TAR |
| District 113 | Cindy Burkett (R) | $69,629 from TAR |
| District 114 | Jason Villalba (R) | $62,099 from TAR |
| District 116 | Diana Arévalo (D) | $1,000 from the San Antonio Board of Realtors (SABOR) |
| District 117 | Rick Galindo (R) | $2,000 from TAR |
| District 118 | John Lujan (R) | $240 from TREPAC |
| District 119 | Roland Gutierrez (D) | $23,057 from TAR |
| District 120 | Barbara Gervin-Hawkins (D) | None |
| District 121 | Joe Straus (R) | $283,661 from TAR |
| District 122 | Lyle Larson (R) | $12,518 from TAR |
| District 123 | Diego Bernal (D) | $1,000 from TAR |
| District 124 | Ina Minjárez (D) | $3,500 from TAR |
| District 125 | Justin Rodriguez (D) | $8,244 from TAR |
| District 126 | Kevin Roberts (R) | None |
| District 127 | Dan Huberty (R) | $20,500 from TAR |
| District 128 | Briscoe Cain (R) | None |
| District 129 | Dennis Paul (R) | $1,500 from TAR |
| District 130 | Tom Oliverson (R) | None |
| District 131 | Alma Allen (D) | $12,500 from TAR |
| District 132 | Mike Schofield (R) | $1,000 from TAR |
| District 133 | Jim Murphy (R) | $74,668 from TAR |
| District 134 | Sarah Davis (R) | $21,740 from TAR |
| District 135 | Gary Elkins (R) | $21,513 from TAR |
| District 136 | Tony Dale (R) | $13,924 from TAR |
| District 137 | Gene Wu (D) | $22,702 from TAR |
| District 138 | Dwayne Bohac (R) | $27,015 from TAR |
| District 139 | Jarvis Johnson (D) | None |
| District 140 | Armando Walle (D) | $8,324 from TAR |
| District 141 | Senfronia Thompson (D) | $86,500 from TAR |
| District 142 | Harold Dutton, Jr. (D) | $17,750 from TAR |
| District 143 | Ana Hernandez (D) | $14,061 from TAR |
| District 144 | Gilbert Peña (R) | $1,000 from TAR |
| District 145 | Carol Alvarado (D) | $42,369 from TAR |
| District 146 | Shawn Thierry (D) | No record |
| District 147 | Garnet Coleman (D) | $12,500 from TAR |
| District 148 | Jessica Farrar (D) | $27,032 from TAR |
| District 149 | Hubert Vo (D) | $57,474 from TAR |
| District 150 | Valoree Swanson (R) | None |
State Supreme Court
| Election | Endorsement |
| --- | --- |
| Supreme Court of Texas, Place 3 | Debra Lehrmann |
| Supreme Court of Texas, Place 5 | Paul Green |
| Supreme Court of Texas, Place 9 | Eva Guzman |