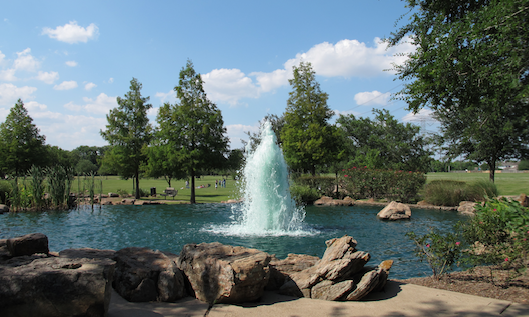 One of the most popular areas for buying a home in the Greater Houston is Sugar Land, located 20 miles southwest of downtown. One resident described it as basically "a little town with its own town square and city hall…no billboards…lots of parks and waterways…a great place for families."
As the name implies, Sugar Land was founded as a sugar plantation in the early mid-20th century and even today is the location of the Imperial Sugar corporate office. Recognizing this heritage, the company's crown logo can be seen in the city's seal and logo.
Sugar Land is also one of the most affluent and fastest-growing cities in Texas, with a population in 2017 of approximately 88,000. It is the largest city and economic center of Fort Bend County.
So why are people so in love with Sugar Land?
1. A master-planned community
There are many reasons why people choose a home in Sugar Land. It's home to the largest number of master-planned communities in the nation. Each community has quality homes and wonderful subdivisions with lots of green space and amenities such as club houses, swimming pools, parks, tennis courts, fishing lakes, and walking trails.
The city also has ample public spaces and tree-lined streets, all of which are held to high scenic standards. Consistently winning awards from Keep Texas Beautiful and the Texas Recreation and Parks Society, Sugar Land also received the inaugural Texas Scenic City "Silver" Certification for achieving the highest level of scenic standards for public roadways and spaces.
2. Education excels here
Sugar Land schools are very highly rated by both state ratings and the scores on GreatSchools.org. For example, out of the 21 area elementary schools, 20 are "exemplary" or "recognized." Plus, most middle schools and high schools score eight to 10 on GreatSchools.org's 10-point scale – scores based on actual test results statewide.
The Washington Post has consistently ranked four Fort Bend ISD schools – Clements, Austin, Kempner and Dulles High Schools – among the best high schools in the U.S.  The recognition is based on the U.S. News and World Report rankings of a school's performance on state end-of-course assessments in reading, math, and college readiness.
3. Sugar Land welcomes diversity
In Fort Bend ISD, recognizing and appreciating cultural differences is a way of life.  As a multicultural school district, students represent various countries from around the world and speak more than 90 languages and dialects, making one of the most culturally diverse school districts in the state of Texas.
By race, the city's breakdown is 44 percent White, 35.1 percent Asian, 10.6 percent Hispanic or Latino, 7.3 percent Black or African American, and 2.6 percent other.
4. Sugar Land stats stack up
Sugar Land homes range in price from $100,000 to more than $3 million, with the average price around $370,000. The median household income is approximately $116,000.
The unemployment rate is well below the state and national percentages.
It has a low crime rate. Sugar Land was recently named America's 20th Safest City, a distinction based on an analysis of FBI crime statistics. The distinction makes Sugar Land the second safest city in Texas.
5. Other awards and recognitions for Sugar Land
Business Week's Top 25 Best and Most Affordable Suburbs in the US – 2006
CNN Money and Money Magazine's Third Best Place to Live in America – 2006
Award of Merit American Society of Landscapers and Architects (for achievement in Planning and Analysis) – 2007
Outstanding Achievement in the City Livability Awards – 2007
6. Don't forget the shopping
Oh, and don't forget the shopping. Between the Town Center Square and First Colony Mall, shopping in Sugar Land is great. Also, it's not far from the Houston Galleria and Katy Mills Outlet mall.
With all these amenities and great selection of homes in master-planned communities, it's no wonder that Sugar Land is attracting a large number of prospective home owners.