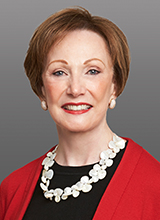 The chairman and chief executive of a leading New York real estate firm will become the vice chairman of the Leading Real Estate Companies of the World, the organization announced Thursday.
Diane M. Ramirez, CEO of Halstead Real Estate, has been a 20-year member of LeadingRE, an organization that provides insight and resources to over 550 independent real estate firms. It's membership is over 128,000 associates who have produced $351 billion in transactions annually, the group said in a press release.
"I am thrilled to begin serving as Vice Chairman of the LeadingRE Board of Directors," said Ramirez. "Working alongside fellow Board members, all top real estate executives from all over the world, for the past few years has been a great honor. I look forward to continuing to collaborate with this team of industry leaders in my new role."
As vice chairman, Ramirez will have a leading role in collecting the organization's members' input and feedback into its programs, operations and the group's business plan.
Ramirez has been on the New York State Real Estate Board since 2010, serves on the board of governors for the Real Estate Board of New York and is an accredited continuing education teacher in the state.