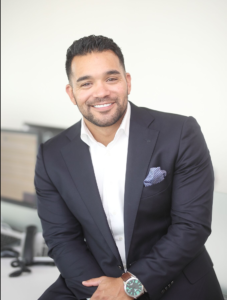 Name: Rene Rodriguez
Title: Sales Agent
Company: Nan & Company Properties/Christie's International Real Estate
What was your first job in the realty industry? Realtor
Where did you grow up? Houston
Growing up, what did you want to be? I used to think about being an architect.
What do you do to relax when you're stressed? I try to go to the gym four to five times a week. If I can make four, it was a good week. If I go five times, it must have been a stressful week.
If you could have lunch with a well-known figure (living or not), who would it be and why? I would want to meet Steve Martin. He seems interesting to talk to.
Where is your favorite place to hang out? My pool. I have two boys (3 and 1.5 years old), and they love to swim.
What do you love most about the industry? Talking to people, seeing different points of views
How do you distinguish yourself from the crowd of agents? Hard work and accessibility. It doesn't matter what time it is, I will answer the phone.
What is the most difficult aspect of your job? The unforeseeable events. Sometimes things happen in a transaction that you cannot control, and its still your job to fix it.
Where do you go to network and meet new clients? I do a lot of events and parties with my company.
What has been your greatest accomplishment? I think having two healthy, beautiful boys is the greatest thing I have ever done.
What was the last good movie you saw or book you read? I just saw "Free State of Jones".
What is your favorite restaurant? I really like Willie's Grill.
Architecturally speaking, what is your favorite building in Houston? Esperson Buildings. I really like the old style Twenties feel it gives you when walking in.
What kind of car do you drive? Cadillac CTS or Durango RT (aka "Daddy-mobile")
Smartphone or paper? I try hard as possible to use my phone more for everything, but I tend to write more. Old habits die hard I guess.
What is your favorite city after Houston? I lived near Seattle for a couple years. I really like Seattle.
In 10 words or less, what is your advice for someone new to the industry? Work hard every single day, even if you have nothing to do.
What's your favorite real estate iPhone/Android app? eKEY! ( If I am using it, it means I'm showing or selling a house).
Who are your favorite people to follow on Twitter? I follow anyone who is busy and successful- it reminds me that if they can do multiple things all day and be successful, so can I!