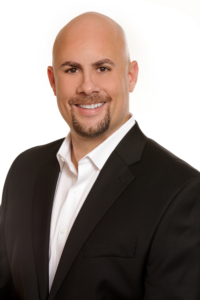 Name: Jimmy Simien
Title: Broker/Owner
Company: Simien Properties
What was your first job in the realty industry? Real Estate Sales Associate with RE/MAX after being laid off by Enron
Where did you grow up? I was a military kid so we lived all over until we moved back to Houston at the age of 16. Prior to moving to Houston, we spent many years in Leavenworth, Kansas. My father worked at the military prison located at Fort Leavenworth.
Growing up, what did you want to be? Honestly, I know it sounds funny, but at a very young age I wanted to be a professional football player because I absolutely loved the game so much and was pretty good. I had dreams of holding up the Heisman Trophy in New York. Obviously that didn't work out for me, but it was fun to visualize.
What do you do to relax when you're stressed? As a broker and owner I spend my days making lots of decisions and helping agents, so when I get home I like to do something that requires little to no thought, so I watch TV. It takes me away from the stress of the day. I also like to get massages.
If you could have lunch with a well-known figure (living or not), who would it be and why? Henry Ford. He failed many times as an entrepreneur and got back up again and again until he was successful.
Where is your favorite place to hang out? We live on the water and have a nice view of the lake which makes going home our sanctuary.
What do you love most about the industry? I love helping buyers and sellers navigate through the process. Each transaction is different and each individual has different needs. I like to think I can help them work through any situation whether it be a contingency sale, divorce, estate sale, etc. I enjoy being their advocate.
How do you distinguish yourself from the crowd of agents? We truly want to elevate the "Client Experience" so making the home buying or selling process as simple and pleasant as possible is what we aim for.
What is the most difficult aspect of your job? Inefficiency. Honestly there is a lot of bad information out in the real estate world. People/agents are dangerous with bad info. Ultimately that makes my job as a Broker more difficult.
Where do you go to network and meet new clients? I have been in the Clear Lake community now for 31 years. I literally see my sphere of influence on a daily basis whether it be at a restaurant, hardware store, etc. I find being out and about works best for me.
What has been your greatest accomplishment? Raising two girls as a single father for many years
What was the last good movie you saw or book you read? Hidden Figures
What is your favorite restaurant? Perry's Steakhouse
Architecturally speaking, what is your favorite building in Houston? I always thought the old Enron building (1400 Smith) was unique because it had rounded corners instead of being squared off.
What kind of car do you drive? GMC Yukon Denali
Smartphone or paper? Smartphone
What is your favorite city after Houston? That's a hard one because I can't imagine living anywhere else, but I went to Florence, Italy a couple of years ago and I can honestly say it's at the top of the list.
In 10 words or less, what is your advice for someone new to the industry? Connect with an experienced broker/agent who can mentor you.
What's your favorite real estate iPhone/Android app? Zillow Premier Agent App
Who are your favorite people to follow on Twitter? JJ Watt and James Harden