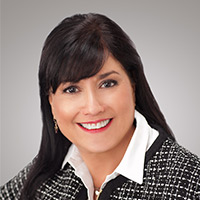 Name: Belinda Large
Title: Residential Loan Officer
Company: Republic State Mortgage, Tanglewood
What was your first job in the realty industry? My first job right out of school was with University Savings. Remember Savings and Loans? That opened up the lending world to me.
Where did you grow up? I grew up in Houston, in the Westbury neighborhood. It was a budding new development when my parents bought a house on a street with only two houses!
Growing up, what did you want to be? An astronaut for sure. My fascination with space and science is still very alive today.
What do you do to relax when you're stressed? I'm a runner and I try to meditate daily.
If you could have lunch with a well-known figure (living or not), who would it be and why? Bette Davis. She wouldn't be pigeonholed, from All About Eve to What Ever Happened to Baby Jane? She's brave and that's my biggest challenge.
Where is your favorite place to hang out? La Griglia Bar where everyone knows my name with my husband on Friday afternoons, or Axelrad Beer Garden on a hammock drinking beer and eating pizza.
What do you love most about the industry? Oh wow! If you are challenged by change, this is not the place for you. Lending rules are very dynamic and following interest rate markets can give you a headache but it's an industry where you get to challenge yourself to problem solve almost every day and meet the most wonderful, interesting people.
How do you distinguish yourself from the crowd of agents? My business isn't run by assistants while I'm out marketing. I am intensely involved with all my borrowers and agents on every loan.
What is the most difficult aspect of your job? For me, it's the intrusion on my client's personal business that makes me a little shaky. I'm very private so it's not my favorite thing to do.
Where do you go to network and meet new clients? I belong to several networking groups where I've made great friends and life-long contacts.
What has been your greatest accomplishment? Undoubtedly, my children who are fiercely independent of me and have wonderful happy lives. And second, for the care I give my 93-year-old mom every day.
What was the last good movie you saw or book you read? Book – A Gentleman in Moscow. Movie – Arrival
What is your favorite restaurant? So many! It depends on what I'm hungry for from Luigi's Pizza to Kiran's. I love food adventures.
Architecturally speaking, what is your favorite building in Houston? Williams Tower
What kind of car do you drive? Lexus SUV
Smartphone or paper? Both
In 10 words or less, what is your advice for someone new to the industry? Be persistant and smile.
What's your favorite real estate iPhone/Android app? DocuSign!