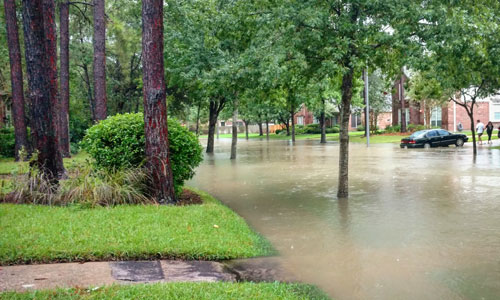 Houston still needs $12 billion in to help households that were impacted by Hurricane Harvey, according to a new report from The City of Houston.
So far the city has received more than $3 billion in federal funding, which includes assistance through FEMA Individual Assistance, Small Business Administration Home Loans and the FEMA National Flood Insurance Program. However, the report found that 81 percent of remaining need is still unmet.
"With high levels of flooding on the west side of Houston, many homes with high values were damaged, and even though these neighborhoods received the greatest amount of assistance, there remains a high amount of unmet need," the report states.
The Civics Analytics and Dewberry, a data science company that specializes in flood engineering, estimate that more than 200,000 households were damaged and half of those were low- and moderate-income households, incurring an estimated $5.2 billion in damage. For all other households, more than $10.6 billion in damage was incurred.
The report also found that there was uneven distribution of funds throughout the Houston area. Within Houston's 88 Super Neighborhoods (areas where residents, organizations and institutions and businesses work together to address the need and concerns of the community), many that saw the highest losses also received the most federal resources and resources like FEMA and the SBA. However, the report notes that even neighborhoods that received a significant amount of support still have a high level of unmet need.
Seven of the Super Neighborhoods received more than $100 million in federal assistance, but still have around 50 percent or more of their needs unmet. This includes the Briar Forest area, which saw more than $1 billion in damaged, Braeswood, which had more than $900 million in damage, and Memorial, which had more than $2 billion in damage. There are still around 28 Super Neighborhoods that have more than 95 percent of their needs unmet.
The report will play a role in allocating the $1.17 billion in Houston housing relief from the U.S. Department of Housing and Urban Development, which will reportedly mainly go to homeowner assistance and rental programs. More than $40 million will go to buyouts, $30 million will go toward economic revitalization and 70 percent must assist families with low and moderate incomes.
| | | |
| --- | --- | --- |
| Super Neighborhood | Unmet Need (in millions) | Need Remaining Unmet |
| Greater Uptown | $1,597.96 | 96.8% |
| Washington Avenue Coalition / Memorial Park | $844.22 | 98.1% |
| Afton Oaks / River Oaks | $591.84 | 98.0% |
| University Place | $367.15 | 98.5% |
| Meadowbrook / Allendale | $266.92 | 96.8% |
| Neartown – Montrose | $193.48 | 99.0% |
| Greenway / Upper Kirby | $190.58 | 99.8% |
| Central Southwest | $165.70 | 95.4% |
| Magnolia Park | $100.83 | 97.9% |
| Downtown | $78.91 | 97.5% |
| Astrodome Area | $77.87 | 99.4% |
| Lawndale/Wayside | $77.08 | 97.3% |
| Sharpstown | $75.47 | 96.5% |
| Midtown | $65.03 | 98.1% |
| Medical Center Area | $60.44 | 99.2% |
| Spring Branch East | $60.29 | 99.2% |
| Spring Branch Central | $59.66 | 98.5% |
| Second Ward | $59.28 | 98.4% |
| South Acres / Crestmont Park | $58.66 | 95.7% |
| Greater Fifth Ward | $54.18 | 95.4% |
| Spring Branch North | $44.53 | 97.8% |
| Westchase | $30.23 | 99.3% |
| Greater Eastwood | $25.73 | 98.4% |
| Greater Third Ward | $24.38 | 95.1% |
| Harrisburg / Manchester | $18.03 | 97.8% |
| South Main | $8.17 | 97.7% |
| Fondren Gardens | $2.96 | 97.6% |
| Willowbrook | $2.42 | 98.2% |