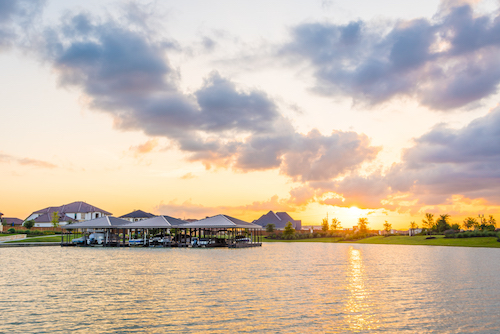 Inspired by Texas Hill Country, Towne Lake by Caldwell Communities in Cypress offers all categories of buyers — entry level, move-up, luxury and older adults with active lifestyles — custom and production new construction surrounded by a glistening 300-acre lake. Fully stocked with bass, sunfish and catfish, the water is perfect for fishing and ideal for kayaking, sailing, tubing, wakeboarding, water skiing, or cruising in a pontoon. The lake is truly the center of the community, the link that brings neighbors together and inspires the tagline, "A community connected by water."
"You can get to work, shopping, recreation and dining all by boat," says Fred Caldwell, CEO and president of Caldwell Communities, noting that he hasn't seen a development like Towne Lake anywhere in the country. "We really care about creating extraordinary places that make people's lives better; it's our primary goal."
Caldwell Communities has partnered with 19 homebuilders on the project, all well-known in the industry for quality craftsmanship. Residents began moving into Towne Lake when it first opened in late 2006. Caldwell estimates the new development will be completed in the next three-and-a-half years, with 3,600 homes at buildout.
---
"We really care about creating extraordinary places that make people's lives better; it's our primary goal." — Fred Caldwell, CEO and president of Caldwell Communities
---
Prime location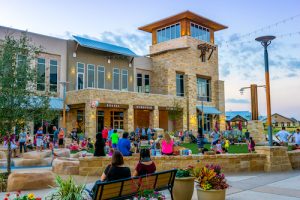 Towne Lake offers residents easy access to three major thoroughfares: Highway 290, I-10 and Grand Parkway. Highway-290 and I-10 lead to downtown Houston, while Grand Parkway provides residents with easy access to the surrounding suburbs of Katy, Sugarland, Tomball and The Woodlands.
Towne Lake is located in the highly acclaimed Cypress-Fairbanks Independent School District. The community itself has two elementary schools and one middle school onsite, and a high school nearby. Excellent medical care can be found in the area and within Towne Lake's borders at Texas Children's Hospital; plus, a Methodist hospital system is coming soon. Residents don't have to travel far for groceries and other basic necessities either: Towne Lake's Kroger is among the largest in the state.
Whether buyers choose a property in Towne Lake's gated or non-gated section, on or away from the water, they will have access to outstanding amenities in the 2400-acre, master planned community lined with approximately 24 miles of hiking and biking trails to complement active lifestyles.
---
"There is something for everybody in this community." — Christine Hebel of RE-MAX/Preferred Homes
---
Towne Lake has the Boardwalk, a lakefront commercial complex, with boat slips for guests traveling by water, that offers dining, shopping, recreation, studios and offices. Residents who don't own a boat can travel by water taxi; residents who do but don't live on the water can park it at the marina.
Throughout the community, homeowners are awed by scenic parks, tennis courts, a destination island for picnicking at the beach and the Lake House, an amenity that includes: a fitness center, reception pavilion for 200 or more guests, a demonstration kitchen, tween room, aerobics area, adult pool and child care.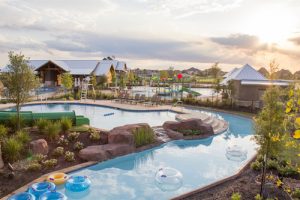 Adjacent to the Lake House is a water park with a lazy river ride that lasts for seven minutes, Olympic-sized and kiddie pools, and a beach with a café/grill on the premises. Towne Lake also has two community centers, one on a smaller scale than the Lake House and another one for the 55-and-up section of Towne Lake.
"There is something for everybody in this community," says realtor Christine Hebel of RE-MAX/Preferred Homes. "There is not an age limit, you could be young and single, married with or without children or an empty-nester. Home prices range from the $220,000s to $2 million plus."
In the custom section of Water's Edge, highly desirable, larger lots with boat slips will be available after the first of the year, according to Jon Harper, custom home sales director for Towne Lake. "The price range for customs in the Water's Edge section varies, from $800,000 to $2.5 million," he says. "All of the plans are one-of-a-kind designs."
A community that sells itself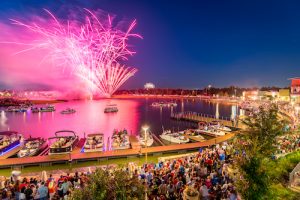 The greatest satisfaction Hebel gets as a Realtor is showing clients, who assume that they cannot afford to live at Towne Lake, a price point to suit their budget. "You can definitely find your place here in this community," she says. "You can come in here and spend $220,000 or close to $2 million. You can get all the bells and whistles and features you want or go 'plain Jane.'"
Buyers have been telling Barbara Locke, who works in sales at the Towne Lake Welcome Center, that they wish they would have made the decision to buy sooner. "They say it's like living in your vacation home year-round," she says. An onsite lifestyle director at the Lake House plans special events for all ages: father-daughter dances, community men's baseball games, teen socials, toddler play dates, a Spooktacular party at Halloween, a Christmas tree lighting ceremony, New Year's Eve celebrations and Fourth of July fireworks displays.
---
"They say it's like living in your vacation home year-round." — Christine Hebel of RE-MAX/Preferred Homes
---
The active adult community has its own lifestyle coordinator who plans lodge events and activities such as card games, fashion shows, wine tastings and bus rides to historic places in Texas. "What makes Towne Lake attractive is the sense of community, camaraderie," Locke says. "It's contagious and fosters a great place to live and raise your children."
Hebel actually moved to Towne Lake with her husband and two children when it first opened. Her kids have grown up within the highly acclaimed school system, and she is pleased with the education they received. The family enjoys taking their pontoon boat out on the water every weekend of the year. "We literally boat up to the Boardwalk and have dinner, boat around the lake, sometimes pick up friends," she says. "We embrace the community."
She has had several clients move to Towne Lake and regret not spending the money to live on the water, only to do so at a later date. "They had to move into the community and get to know it first," she says. "Moving within the community is always a good sign."