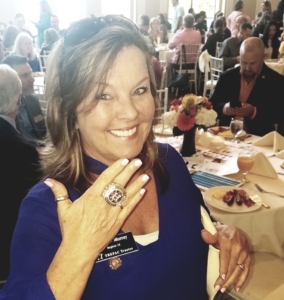 Name: Michelle Murray
Job Title: Realtor
Company: RE/MAX Compass
What was your first job in the realty industry? Agent
Where did you grow up? Cypress
Growing up, what did you want to be? Always loved helping people so knew I wanted something that would allow me to do just that.
What do you do to relax when you're stressed? Drives in the country. Playing soccer. Hang at the beach. Riding on the back of a motorcycle on a beautiful Texas weekend!
If you could have lunch with a well-known figure (living or not), who would it be and why? My dad. He has passed on and the longer he has been gone the more I realize no one was more important to me and who I have become.
Where is your favorite place to hang out? The beach.
What do you love most about the industry? Opportunity
How do you distinguish yourself from the crowd of agents? I'm customer service all the way. Its in information and education where I excel with my clients. And did I mention I am Born and raised in Houston?
What is the most difficult aspect of your job? Time management…I never want to stop
Where do you go to network and meet new clients? Sporting events'
What has been your greatest accomplishment? My family
What was the last good movie you saw or book you read? Christmas Chronicle
What is your favorite restaurant? Cypress Trail Hideout….can't beat those wings!
Architecturally speaking, what is your favorite building in Houston? HOGG PALACE!
What kind of car do you drive? LEXUS RX350
Smartphone or paper? Smartphone all the way!
What is your favorite city after Houston? San Antonio
In 10 words or less, what is your advice for someone new to the industry? Database database database..keep in touch.
What's your favorite real estate iPhone/Android app? Md Scan
Who are your favorite people to follow on Twitter? LEIGH Brown
---
Want to be featured in our Agent Snapshot? Click here and complete this survey. Agent Snapshots are published on our website and shared in our newsletter and social media feeds.