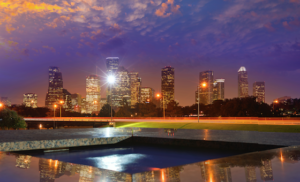 The downtown Houston skyline looks like it will get an addition in the form of one of its tallest residential buildings.
Hines, a Houston-based developer, is planning a 46-story residential building at 414 Milam Street in the heart of Downtown Houston. Plans for the tower call for 373 units, with an estimated completion date in the summer of 2021, according to Houston Business Journal, which reported the news based on a filing with the state. The filing included a start date for construction of December 1, 2018.
It's not yet clear whether units in the building will be rentals or condominiums. It will be Hines' tallest residential building in the city, at least by number of floors, if the project is built as proposed in the filing.
Downtown Houston is becoming an increasingly popular residential neighborhood, crossing the 8,000 resident threshold last year. Plan Downtown, an initiative of Houston Downtown Management District which launched in late 2017, calls for the addition of 12,000 new residential units to support 30,000 new residents in the neighborhood over a 20 year period.
Millennial residents are expected to be a driver of growth in the area. A report by the Kinder Institute last spring noted that the number of millennials aged 25 to 34 grew by 39 percent between 2000 and 2016.