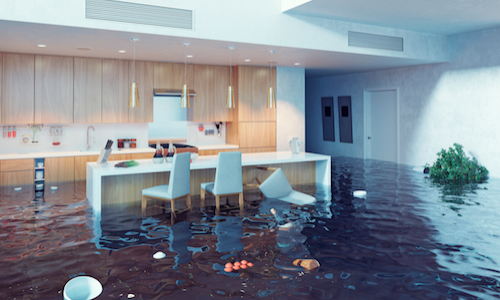 This week, CoreLogic released its 2019 Storm Surge Report, which evaluates the number of homes in the United States that are vulnerable to hurricane and tropical storm damage.
The report showed that, along the Gulf and Atlantic Coasts, 7.3 million homes have the potential for storm surge damage. The homes have a combined reconstruction cost value (RCV) of almost $1.8 trillion, the cost to completely rebuild the properties from the ground up.
The RCV for the Atlantic Coast, $1.1 trillion, came out higher than the RCV for the Gulf coast, $668 billion, simply because the Atlantic coast is more densely populated with homes than the gulf coast. The Gulf contains 43 percent of the homes at risk and the Atlantic coast has 57 percent of the total homes at risk.
Florida and Texas have the most risk for loss to storm-surge flooding, primarily due to the length of their coastlines, with 2.9 million homes vulnerable in Florida and 561,000 in Texas. Because of this, Florida's RCV is the highest in the country, over $603 billion and Texas has the fifth highest, with more than $113 billion.
The report focuses specifically on storm surges, large volumes of seawater pushed onto land by a storm that can be very damaging. According to the report, each cubic yard of seawater in a surge can weigh one ton.
Hurricane season begins on June 1 and experts are predicting a fairly average year for tropical storms and hurricanes, with a predicted nine to 15 named storms and four to eight hurricanes over the course of the year.
Evaluations made in the report encompass both single-family and multifamily homes vulnerable to damage and loss from storm surges. The report lists risks of damage cumulatively, meaning that the further inland a storm goes, the more damage is anticipated as the storm increases in category.
In all, 19 states were analyzed for the report—including all of those on the Eastern and Southern coast that border the Atlantic and Gulf coasts, respectively.
Some states are at high risk because of geographic characteristics like low elevations near the shoreline. In New Jersey, 475,000 homes are at risk, and in Louisiana, the number is 847,000 homes. Geographic characteristics like these allow for storm surges to go further and damage more houses farther away from the shore.
Most homes in high risk zones are protected against storm surges and flooding, although many still aren't. This is because, although things like wind damage are covered under typical homeowner's insurance, flood insurance is overseen by the National Flood Insurance Program. Due to this, 70 percent of the homes damaged in Hurricane Harvey in 2017 were uninsured.
This report can also help those considering buying a home to be aware of the danger and possible property loss that could come with a home in a storm surge area, especially the further inland they go.