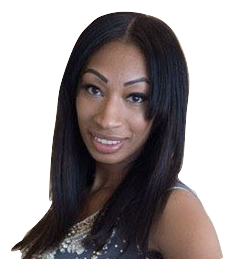 Name: Ihyanna Messado
Title: Realtor
Company: Peek Realty
What was your first job in the industry? Residential leasing
Where did you grow up? Bronx, NY
Growing up, what did you want to be? I wanted to be a teacher as a child. I would always play school with my younger siblings and teach them what I learned in class that day.
What do you do to relax when you're stressed? To relax, I have spa days to unwind and relieve stress.
If you could have lunch with a well-known figure (living or not), who would it be and why? If I could have lunch with a well known public figure it would be Chelsea Handler. She seems like a great time, plus I love to laugh.
Where is your favorite place to hang out? My favorite place to hang out is poolside with BBQ food.
What do you love most about the industry? My favorite thing about this industry are the people I get to meet and being allowed to help them to the next chapter of their lives.
How do you distinguish yourself from the crowd of agents? I'm big on getting to know my client for who they are, not just thinking of them as a file. I also like to educate my clients so they can make informed decisions.
What is the most difficult aspect of your job? This is a hard question to answer because I've never been one to shy away from difficultly. I can appreciate a challenge, I know it makes me that much better, going forward. But since the question was asked, I would say in the beginning of my career, it was finding the right team for me.
Where do you go to network and meet new clients? I simply go out around town. I'm friendly and I make myself very approachable.
What has been your greatest accomplishment? I haven't gotten there just yet. The way my mind thinks, there is always something else to accomplish. It's never ending.
What was the last good movie you saw or book you read? It's not a movie, but it did have my face glued to the TV: "Money Heist." If you haven't seen it go see it now! It's action packed.
What is your favorite restaurant? TGI Friday's. I love their breadsticks.
Architecturally speaking, what is your favorite building in Houston? I don't have one. I may have to do some more exploring.
What kind of car do you drive? A Mercedes.
Smartphone or paper? Both. I have to write things down and check them off, that visual helps. And a smartphone is just a part of live at this point. It's like my sidekick.
What is your favorite city after Houston? New York City in the summer. I love that place.
In 10 words or less, what is your advice for someone new to the industry? Find a mentor to help you along the way.
What's your favorite real estate iPhone/Android app? HAR, CSS, CLOVE
Who are your favorite people to follow on Twitter? HGTV and a bunch of comedians. I love to laugh.
Want to be featured in our Agent Snapshot? Click here and complete this survey. Agent Snapshots are published on our website and shared in our newsletter and social media feeds.