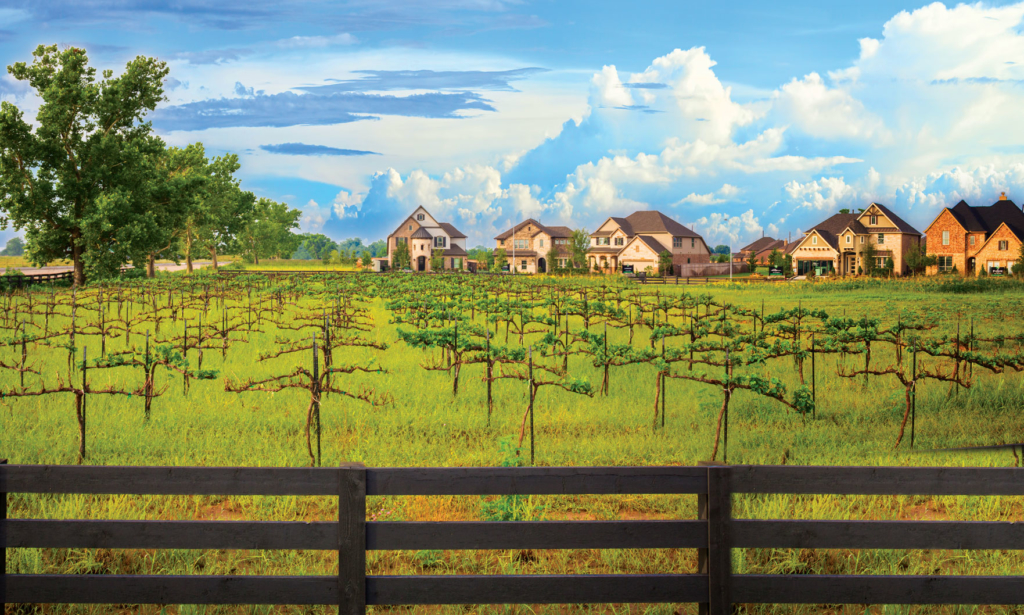 Kicking its recipe for developing award-winning, master-planned communities up a notch, Johnson Development Corp. has a unique opportunity for homebuyers seeking active and sustainable lifestyles: Harvest Green.
Featuring an onsite, cooperative farm and ongoing activities focused on gardening, Harvest Green opened in 2015 as Houston's first "Agri-hood." Living up to its tagline, "Planting Roots. Growing Life. Harvesting Happiness," Harvest Green offers residents who are members of its "farm club" the opportunity to learn how to grow their own produce and help care for the goats and chickens that live there. Not fond of getting your hands dirty? A weekly farmers market gives everyone a chance to buy fresh produce organically without having to plant or grow it themselves. Even better, residents can handpick fresh herbs and produce and take it home to enjoy, free of charge, in the many designated "you pick" areas available throughout Harvest Green.
When the wind blows, you might catch a hint of rosemary, parsley or lemon in the air. The builders are required by the developer to plant something edible in the front yards of every home. They also give buyers the option of adding a backyard garden to their properties, one that is ready to grow by the time they move in.
Situated on 1,358 lush acres in Richmond, Texas, a suburb of Fort Bend County, Harvest Green was named "2018 Master-Planned Community of the Year" by the Greater Houston Builders Association. Naturally, it has all of the trademarks of a Johnson Development community: a central location; new construction by quality builders; a perfect mix of residential and commercial properties; onsite, high-performing schools; miles of scenic nature trails along natural waterways; pocket parks; recreational lakes for non-motorized boating and fishing; wide open spaces; an award-winning recreation center; and a director of fun to keep residents socializing year-round.
Central location
Located in close proximity to Grand Parkway, Harvest Green gives residents quick and easy access to Interstate 10, Highway 59 and the Westpark Tollway, major arteries that quickly lead to downtown Houston, the Medical Center, Galleria and Energy Corridor. "You have all of the benefits of being in Fort Bend County—employment, dining, shopping and entertainment—all within a short drive away," says Jerry Ulke, vice president and general manager of Harvest Green. "But you get to live in a nice, tranquil atmosphere. You get a small, close-knit community without all the big city lights."
Homes to suit all budgets
Harvest Green offers all categories of buyers new construction homes by 11 award-winning builders: Darling; David Weekley; Highland; D.R. Horton; Lennar; Meritage; Newmark; Perry; Plantation; Trendmaker; and Westin. Priced from $240,000 to upwards of $700,000, the properties range in size from 1,500 square feet to 5,000 square feet. In addition, all of the homes are energy efficient, wired for technology and feature open floor plans that let in a lot of light, creating a bright, ethereal feeling. "Harvest Green has attracted a very large share of relocation buyers," says Shabu Budhwani, sales professional for Perry Homes. "We are attracting buyers who want to upsize, downsize and relocate here."
Shop local
Across the street from Harvest Green is the nation's first next generation Super Target and a Grand H-E-B, giving residents the convenience of shopping for groceries and other basic necessities right outside their front door. In the works is a new town center with restaurants, bars and movie theaters that bring a night out close to home. Wine aficionados will be happy to know that Messina Hof Winery and Kitchen, a world renowned, fourth-generation business, will break ground at Harvest Green in mid-2020.
Fantastic amenities
Harvest Green boasts 30 acres of lakes and waterways, 288 acres of green belts and open spaces, and more than 15 miles of trails to walk, hike or bike. Kids can explore Barberry Park, a playground with a climbable barn structure and several toddler playhouses for impromptu games of hide and seek. Furry friends can run around and get their energy out at Bark Park, a play area designed specifically for them. The community's newest amenity, Harvest Yard, will be equipped with tennis courts, a sand volleyball court and an expansive playground with an oversized sculpture of a carrot, a nod to the community's farming roots.
Residents don't have to leave the area to stay active. The Farmhouse, voted "2018 Master-Planned Community Amenity Center of the Year" by the Greater Houston Builders Association, has something for everyone: a resort-style pool; splashpad; playground; amphitheater; lake with fishing piers; state-of-the-art fitness center with studio for classes; event lawn for community gatherings; and an event hall, overlooking the water, to celebrate life's milestones.
A full-time director of fun encourages neighbors to socialize throughout the year by hosting such crowd- pleasing events as Bingo nights, movies under the stars, potlucks, chef fests and yoga with baby goats. "People were complaining that their face hurt, because they were smiling too much doing yoga while little baby goats were climbing on them," Ulke said. "It made for funny pictures."
Desirable schools
Children in grades K-12 attend school in the highly desirable Fort Bend Independent School District. Located within the community, James C. Neill Elementary, James Bowe Middle School and Travis High School are a short walk or bike ride away. Even more importantly, all of the schools recently earned an A+ rating from the Texas Education Agency. Working parents don't have to travel far for childcare or early childhood education programs. There is a Montessori school and a daycare center onsite.
Why buyers are taking the leap
Imran Bhaidani, Realtor, The B&P Team, Keller Williams Southwest, not only sells homes in Harvest Green, he also purchased one last year for his own growing family. He recommends Harvest Green to clients for the same reasons he chose to a raise a family there: the homes, location, community and neighborhood. "There's a lot to do," he said. "We hardly leave the area. We have everything here."
Budhwani recently sold a home to first-time homebuyers, whose parents have lived in their Perry home for more than 30 years. They chose a mid-sized property, with a covered patio, located in a cul-de-sac that has its own herb garden tended by farmers. "They were very pleased with the quality of construction, energy-efficient features and technology package," she said, noting they also like being close to their jobs in the Medical Center. "When they walked into their Perry Home, they were drawn in by that open, airy feel."
Fostering appreciation for the environment
Ulke fondly remembers the first event Harvest Green hosted at its farm, with farm educators teaching residents about growing produce. "One family had a 6-year-old boy covered in dirt, helping the farmers," he recalled. "He came walking back with a radish in his hands and said, 'Look mom, they said we can eat this.' His sister disagreed. 'You cannot eat that,' she said. 'It didn't come from Kroger.' That is why we're here," Ulke says. "That little girl needs to know not everything comes from the grocery store."
To learn more about Harvest Green, visit www.harvestgreentexas.com.