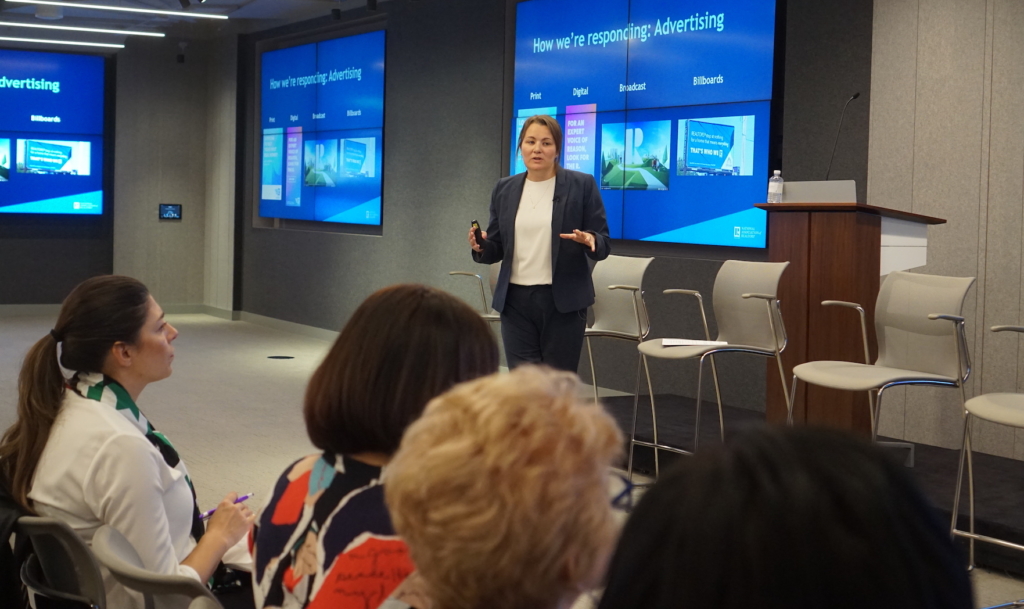 "We are currently living in a 'remember when' moment." That's how Katie Johnson, general counsel and chief member experience officer for the National Association of Realtors, kicked off her session at our 2020 Accelerate Summit, held on March 4 at the Merchandise Mart in Chicago.
Johnson wasn't talking about the election, coronavirus or the stock market's wild ups and downs. She was referring to what amounts to a serious public relations problem that real estate agents are currently facing as a result of several class action lawsuits.
"Today's 'remember when' moment is challenging your value," Johnson said. "It's not just being challenged. It's being trivialized and degraded."
NAR is currently in the midst of fighting two class action lawsuits (one being heard in Cook County, the other in Kansas City, Missouri) that seek to upend the way homes are listed for sale and commissions are paid to agents. Among other things, the lawsuits accuse NAR of conspiring to require home sellers to pay buyer commissions at an inflated amount, thereby violating federal antitrust laws.
The original lawsuit stems from a 2015 home sale in which a Minnesota seller said he was forced to pay both his agent's commission and the commission of the agent representing the buyer because of a NAR rule requiring listing agents to make a "blanket unilateral offer of compensation" to buyer brokers when listing a property in a Realtor-affiliated MLS.
According to Johnson, NAR's motion to dismiss was denied in Kansas City, which means a trial is likely, but in Cook County, the judge has not ruled yet. "It's an expensive, long process," Johnson said. "We'll work to prevail in court, but we need your help to prevail in the court of public opinion."
Referring to NAR's "That's Who We R" branding campaign and its recent 2020 iteration, "Look for the R," Johnson said agents can effectively drive their own PR campaigns to help clients understand their value.
Social media is an obvious way for agents to shape public opinion; Johnson recommended they utilize the infographics available on NAR's website, such as "3 ways to maximize the value of your real estate agent," "The essential real estate agent, and "Microeconomics of buying a home."
However, in-person communication with clients and friends is just as important, Johnson said, noting NAR's website offers a series of talking points for agents to address the lawsuits as well as the crucial role agents play in helping buyers and sellers achieve their goals.
One refrain commonly repeated by buyer's agents is a talking point Johnson would love to abolish. "You don't work for free, so don't say that. Be transparent and clear as possible about how we get paid," she said, noting the importance of not only getting buyers agreements signed, but explaining to consumers why they're important and how compensation works in the transaction. "Tell your story. Your story is how valuable you are, why you're valuable and why you're getting paid."