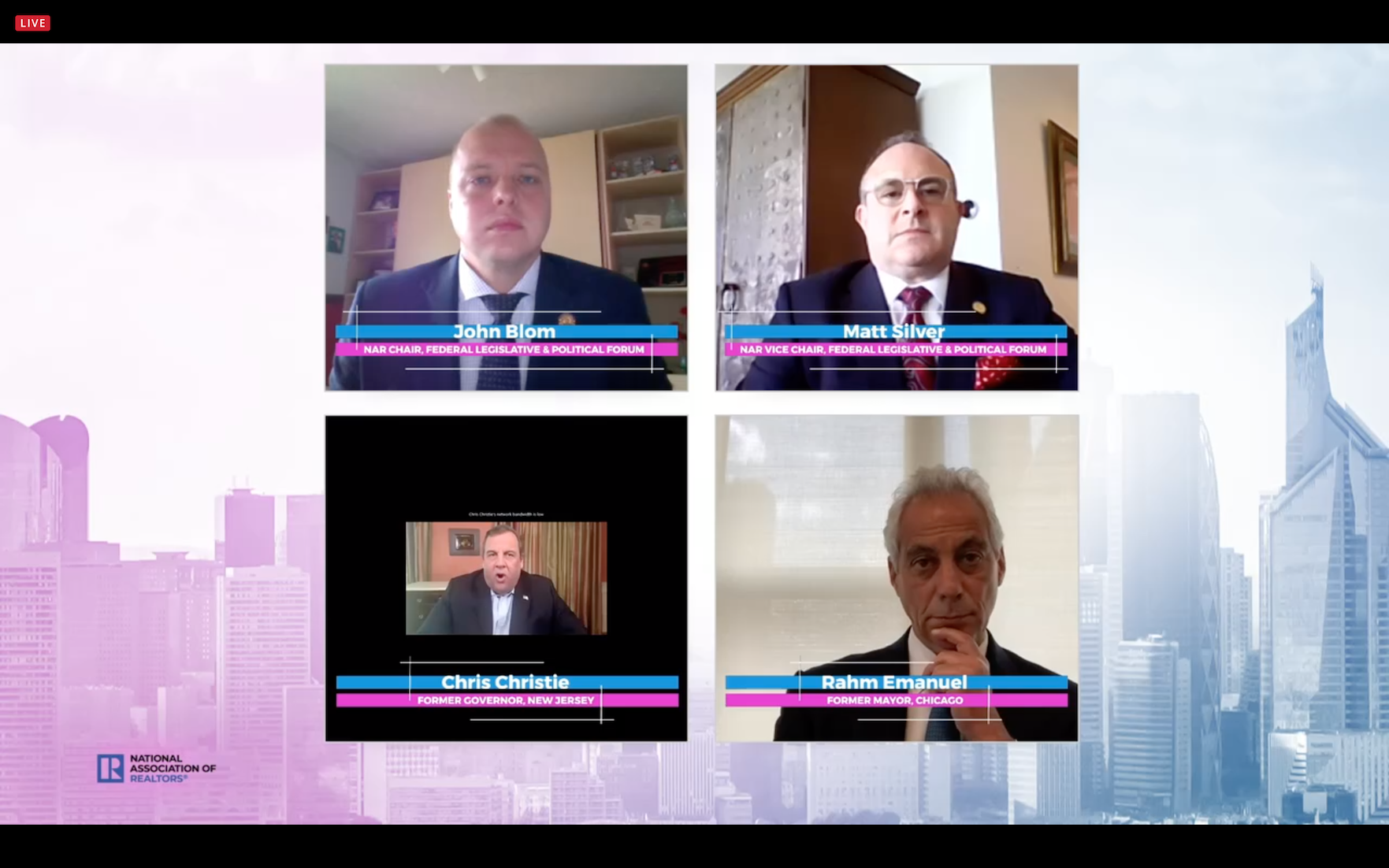 Every year, the National Association of Realtors brings in commentators and lawmakers from different sides of the aisle for its Federal Legislative & Political Forum, and in election years, the debate can get quite heated. But this is not a normal election year.
"The only issue that matters anymore is the response to the coronavirus outbreak and moving forward," Republican commentator and former New Jersey Governor Chris Christie said on a virtual version of the event aired today. He added that, before the pandemic, President Donald Trump was a favorite for reelection, but now the race is anyone's guess. "Since the outbreak of the COVID-19 outbreak the entire landscape has changed."
Christie's democratic counterpart on the panel said he was of the same mind. "I'm having an out-of-body experience, because I'm actually agreeing with the governor," former Chicago Mayor Rahm Emanuel said, noting that the election quickly became a referendum on the president, who's the type of politician who likes to be on the offensive. "This is a race of Trump versus Trump, and Trump is losing that race … He is always a better counter-puncher than he is anything else."
Both agreed that the race is pretty much up in the air at this point, though when pressed, each predicted the race narrowly going to the nominee of their chosen party. When asked to paint a picture of the country one year from now, Christie projected another four years for President Trump, a 51-49 split in the Senate and a House still overseen by Democratic Speaker Nancy Pelosi.
Though Christie noted there will likely be a COVID-19 vaccine by then, he also said that, "In that world, it will be even more difficult to get things done in Washington" due to the divided government. Also, while "you'll see the American economy coming back, but not all the way back," there will be robust discussion about how to deal with the debt incurred in fighting the impacts of the novel coronavirus. "That will have a great impact on recovery as well."
Emanuel said that, for the first time in a long while, the Senate could go either way, though he noted that it will probably follow the presidential coattails in general. He said he expects the House to add democratic seats this year. And while he thinks former Vice President Joe Biden's apparent strategy of lying low has been working for the moment, he added that the presumptive democratic nominee will soon have to figure out how to campaign effectively in a hugely changed environment. "For the moment, Biden is doing the right thing," Emanuel said. "Vice President Biden's major asset is his empathy … That is a very hard thing to do from your home."
Now that Biden has all but sewn up the nomination, much of the political prognosticating has moved on to whom he'll pick as a running mate. Christie was upfront about his prediction that former presidential candidate and senior senator from Minnesota is the likely ticket mate.
"I think he's going to pick Amy Klobuchar," Christie said. He noted that, due to Biden's age, the choice will be highly scrutinized. "People are going to be looking at his choice … as a real potential president."
Emanuel didn't offer any names, but he did note that those who see the vice presidential pick as a way to even out partisan or geographical gaps are evaluating the decision based on a political calculation that really hasn't been relevant since before Bill Clinton ran for president. "Vice presidents were seen as a way to balance the ticket [but] the balance model was driven out," he said. "It's a political decision as much as it is a personal decision … Who does he feel comfortable with?"
Perhaps the most encouraging prediction of the session was the feeling that America may indeed grow stronger as a result of its current trials. "I'm pretty impressed with what the country has done," Emanuel said of the way he's seen communities come together. "We've also rediscovered the thread of being a neighbor and a community … I'm very bullish on the United States."