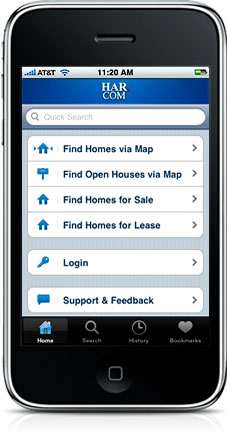 After months of development and testing, the Houston Association of REALTORS® (HAR) has launched a property search application for the iPhone that extends the power of its popular HAR.com website to the palm of one's hand.
The HAR.com iPhone application provides consumers with the most comprehensive and updated real estate information available on a portable device, with data that refreshes every 15 minutes. Consumers can view listings of all for-sale properties on their device and see up to 16 posted photos—more than any other real estate-related application currently allows. Consumers can also view videos of the homes and easily contact the real estate agents representing them.
"Consumers are demanding more and more services while they're on the go, and with the HAR.com iPhone app, home buyers can access the functionality they've come to expect from the HAR.com property search feature right at their fingertips, no matter where they are," says HAR Chair Margie Dorrance. "The HAR technology team spent several months developing this app and then several more months beta testing it to ensure it was fully compatible with the iPhone and could deliver the best consumer experience possible."
More than 200,000 consumers are currently registered through HAR.com to receive updates about active property listings that are of interest to them. Those that own an iPhone will be able to instantly access that information on their hand-held device. The application also features a consumer feedback button as part of HAR's commitment to provide tools and services that best serve consumer needs.
The launch of this application represents the first time a Multiple Listing Service (MLS)—the database for property listings—is providing access to a portable device. This is a significant boon to Realtors who will now be able to quickly and easily access property data while on the go.
The HAR technology team is currently developing versions of the application for Android phones as well as the iPad. Those are expected to be launched in 2011.
To download the application, go to www.HAR.com/mobile/dispiPhone.cfm.
More than 1.2 million consumers rely on HAR.com for Houston-area real estate information and account for more than 1.5 billion hits each month to the website.