The Wall Street Journal's third-quarter survey of housing-market conditions showed that home prices have fallen so far that the monthly cost of owning a home is at the most affordable it's been in 15 years. Additionally, as rental rates rise, owning a home has become more affordable than renting in 12 metropolitan areas in the country.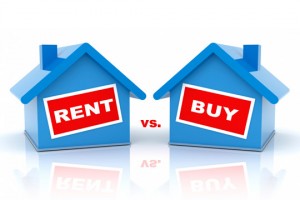 The survey, which studied 28 of the nation's largest metropolitan areas, found that home values have declined in all but five of these markets. Some of the areas where renting has become more expensive than owning a home include Detroit, Minneapolis, Orlando, Las Vegas, Miami, St. Louis, Chicago and Phoenix. Rental rates have been steadily rising in these areas and across the country while mortgage rates have stayed near 4 percent–the lowest rate in 60 years.
The low mortgage rates are making the difference in terms of affordability–median monthly mortgage payments, including taxes and insurance, in many metro areas have fallen below average monthly rents.
Unfortunately, the affordability of homeownership in these areas has not been doing as much as expected in the way of put the housing market back on its feet. Many potential buyers are still unwilling to purchase a home, and others are unable to qualify for a mortgage.
Atlanta showed the highest rate of affordability for home-owning according to the survey: the average monthly payment for an Atlanta homeowner was $539, assuming a 20 percent down payment had been made. Contrastingly, the average monthly rent was up to $840 for the third quarter in Atlanta. Yet, real estate agents and economists in the area claim that this hasn't boosted the housing market as much as one might expect. Some current homeowners would like to purchase larger properties but are unable to because they are unable to sell their current homes. Renters also seem to be dissuaded from purchasing a home by expenses like insurance, taxes and maintenance.
Other would-be buyers are unable qualify for mortgages because their current homes don't carry enough equity to use as a down payment. There is also the constant fear of the market falling–weak job growth and the risk of foreclosure are constantly on the minds of those considering purchasing a home.
"The reality of coming up with the down payment and the loan-qualification standards makes things much different than the raw numbers suggest," says Hessam Nadji, managing director of Marcus & Millichap.
"It's one of the most striking developments of the housing downturn," said Paul Dales, an economist at Capital Economics. "The initial building blocks for a recovery are in place, but the legacy of the recession is really preventing households from taking advantage."
Ryan Young, from Washington Grove, Maryland, has recently signed a contract for a three-bedroom home where his monthly payments, including tax and insurance as well as mortgage, will be $150 less than he currently pays in monthly rent. While this should come as good news, Young still admits some nervousness associated with purchasing his first home.
"Buying a house is not a good financial decision, per se, but we needed a bigger place," said Young, "and we don't want to move every couple of years into a new rental."
Even those cities where renting remains the more inexpensive option have seen an increase in homeownership affordability. Over the past two decades, owning a home in San Diego was on average 83 percent more expensive than renting. During the third quarter of 2011, the difference between the two was only 22 percent–a huge increase in homeownership affordability. In 15 cities surveyed by The Wall Street Journal, renting was still the less expensive option.