A government shutdown is looming in Washington, and should one occur, it could have wide-ranging effects on the nation's economy – including housing.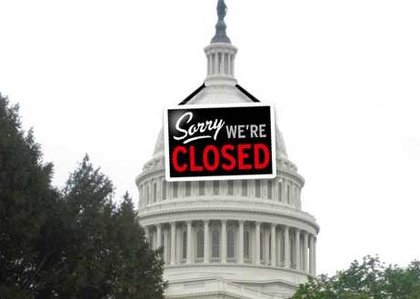 Well, it's that time again.
As you've surely seen in the headlines, political gridlock has once again paralyzed Washington, and, once again, the U.S. is on the brink of a government shutdown, with many of the government's "nonessential" services, from the IRS to the national parks to the military, facing temporary shutdowns from lack of funding.
And though numerous sectors of the economy, from healthcare to defense to accounting, would be affected by the shutdown, little attention has been directed at how the housing market, one of the most important sectors in the whole economy, would be impacted by the shutdown – in particular, the nation's residential lending environment.
So with a possible shutdown looming, here are a couple of key points to keep in mind:
•Will Lending Stop? – One area of particular concern is home financing. The U.S. government still, five years after the mortgage meltdown, guarantees 9 out of every 10 new residential mortgages, and some analysts are concerned that, given the government's disproportionate role, lending would inevitably be impacted by a shutdown.
But Don Frommeyer, the president of the National Association of Mortgage Professionals, said in National Mortgage Professional magazine that a shutdown would only directly impact VA borrowers, though there could be spillover into conventional loans.
"With a shutdown, lending isn't going to stop," Frommeyer said. "The main problem would be for military personnel, who could be affected, in the sense that they wouldn't be getting paid. We also don't know if rates are going to be affected because the market often responds to what the government does."
•Processing – Though the GSEs, the Federal Reserve and the Consumer Financial Protection Bureau would not be affected by a shutdown, loan processing certainly would be. As John H.P. Hudson, VP of regulatory affairs for Premier Nationwide Lending, pointed out to National Mortgage Professional, the processing of 4506 tax returns are integral to home purchases – and who processes those returns? The IRS, which could be impacted by the shutdown.
Nick Timiraos, the Wall Street Journal's housing reporter, put it this way on his Twitter feed: "If govt shutdown leads IRS to stop providing form 4056 (income verification), then don't expect any mortgages to get made during shutdown."
We're not indicating that any of those scenarios will happen – far too little is known about what the shutdown would encompass – but it would be wise to brace for such scenarios, should a shutdown take place.