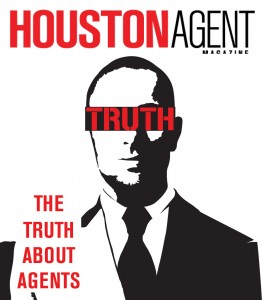 For our first annual Truth About Agents issue, Houston Agent magazine created a survey to present the trends in the industry, and how agents perceive several different industry issues, including income, marketing, office satisfaction and many more.
Here are some of the survey highlights:
• 88 percent of agents' incomes have increased from 2012, suggesting the average income is very stable. The average annual income was $111,691.
• About 83 percent of agents are satisfied with the services their brokerage provides, and only 33 percent of dissatisfied agents plan on changing offices vs 8.7 percent of agents who are looking to change offices in general. The split of dissatisfied agents is 75 percent, 8 percent less than the average split of 82 percent (the median split is 80/20).
• Houston agents are expecting for the market to become more competitive, at least for buyers. Eighty four percent of agents expect more multiple offer situations this year, 84 percent expect more sales this year and 82 percent of agents agents said that 20 percent or less of their listings in 2013 dropped in price before selling.
• 25 percent of agents don't expect credit requirements to ease up for buyers with bad credit looking for a loan.
Keep clicking through to see more survey results, including how long Houston agents have been in the business, what agents are spending their marketing dollars on and more.