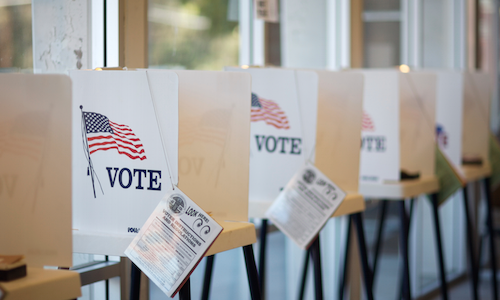 Yesterday, Houston area residents went to the polls and voted to not elect a mayor, to continue as one of the only major metros in the state and country without a strong equal rights policy in the law books, and approved a bond for the Alvin ISD that is expected to ultimately cost local voters upwards of $1 billion.
Where's Our Mayor?
After serving three consecutive terms, Mayor Annise Parker, who has served since 2010, is approaching the end of her time in office. Two candidates, Sylvester Turner, a long-serving member of the Texas House of Representatives, and former mayor of Kemah Bill King, had been touted as the race's frontrunners, but when the polls closed, neither had garnered the 50 percent necessary to be Houston's mayor.
The two are slated to face each other in a runoff election on Dec. 12.
Houston Voters Kill HERO
Of Texas' five biggest cities – Houston, San Antonio, Dallas, Austin and Fort Worth – Houston is the only one without a well-defined, well-established equal rights policy which could have, among other things, protected against housing discrimination. And after last night's vote, it remains alone.
The biggest opponents of the Houston Equal Rights Ordinance – referred to as Proposition 1 – attacked a small section in the ordinance that allows transgender men and women to use bathrooms that align with the gender they associate with, which led to HERO's nickname: the "bathroom bill".
Because the ordinance would have guaranteed certain fair housing practices, including establishing procedures for investigating discriminatory housing practices and ensuring rights and remedies substantially to those granted under the Federal Fair Housing Act, the Houston Association of Realtors gave its verbal support of the bill last September.
"(HAR) sees HERO as an extension of the Code of Ethics to which licensed Realtors must adhere each day to ensure the fair and ethical treatment of all real estate consumers," said HAR Chair Nancy Furst. "Our 31,000-member association respects and celebrates Houston's diverse population, and we believe HERO complements the Realtor commitment to conduct business without discrimination of any kind."
The ordinance failed to pass by a sizable margin – 61 percent "against" to 39 percent "for" – prompting a quick response from Houston Unites, a campaign to support HERO:
"We are disappointed with today's outcome, but our work to secure nondiscrimination protections for all hard-working Houstonians will continue. No one should have to live with the specter of discrimination hanging over them. Everyone should have the freedom to work hard, earn a decent living and provide for themselves and their families."
Alvin ISD Asks for $1 Billion…and Gets It
In Alvin, the decision of whether or not to approve a bond package for the local ISD was seemingly an easy one, as 59 percent of voters agreed to approve.
The bond includes funding for three new schools, a new 10,000-seat stadium and a career and technical education center, which the district says are all in response to chronic overcrowding.
"Alvin ISD does a great job of predicting the number of students who will be in our schools, based on the homes being built and the area is growing extremely quickly," said Alvin ISD Trustee Julie Pickren. "This growth is the main reason that the Alvin ISD Trustees approved a November school bond election."
While the additional facilities will address a growing concern in the area, the bill for such heavy construction is expected to be "roughly $1 billion, counting interest payments, in a district that has about $6.5 billion in taxable property," according to a report from WatchDog.org's Texas Bureau.