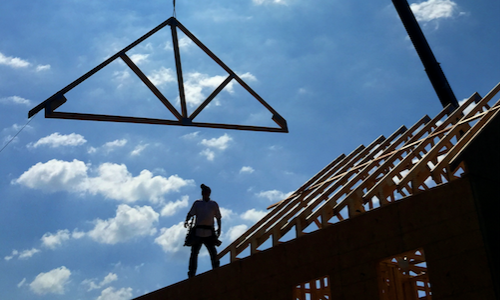 Builders need to build – a ubiquitous sentiment throughout the country, and what some experts believe is the solution to widespread inventory shortages. Two new stats suggest that may be exactly what's going to happen in 2017.
The first stat is job gains – the construction industry posted 25,000 new jobs in Jan. 2017, according to the ADP National Employment report. As the below table shows, that's 20,000 more jobs than were gained in Dec. 2016, and more than double the gains posted in Nov. 2016. The increase was also an improvement from last January's gains by about 8,000 jobs.
| Month | Number of Employees (in thousands) | Change |
| --- | --- | --- |
| Jan. 2017 | 6,670 | 25,000 |
| Dec. 2016 | 6,645 | 4,000 |
| Nov. 2016 | 6,641 | 12,000 |
| Oct. 2016 | 6,629 | -12,000 |
The job gains don't necessarily indicate an increase in residential construction, which is what is necessary to help assuage inventory shortages. But it is a positive indicator, especially when compared alongside the National Association of Home Builders' latest 55+ Housing Market Index (55+ HMI) – our second stat.
Confident in what's to come
The 55+ HMI is a measure of builder confidence as it regards to current sales, expected sales over the next six months and prospective buyer traffic. A measure over 50 on the index indicates a positive response.
In Q4 2016, builder confidence in the single-family market spiked, as the below graph shows. The index jumped eight points to 67.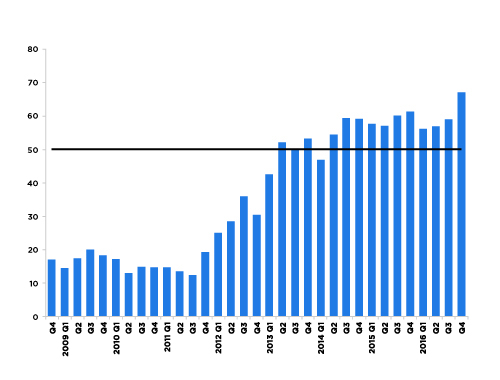 NAHB's report explains that in every measure, confidence rose. It reads: "present sales and expected sales for the next six months posted index-highs, increasing 11 points to 74 and 10 points to 75, respectively, while traffic of prospective buyers rose two points to 49."
So while an increase in construction jobs doesn't mean an inevitable increase in residential building, growing positivity around building prospects is a good sign for the industry.