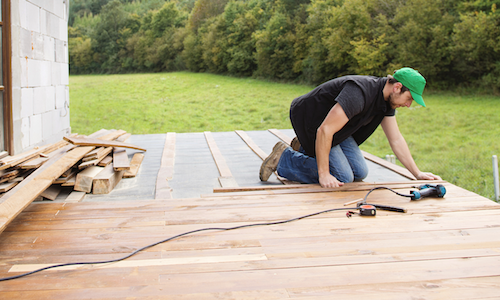 Despite a slight increase in recent months, home flipping has now hit a two-year low, and home flippers are seeing lower returns on their investment, according to the Q1 2017 U.S. Home Flipping Report by ATTOM Data Solutions.
Home flipping accounted for 6.7 percent of single family home and condo sales in Q1 of 2017 — an increase from the previous quarter's 5.8 percent. Flipping as a whole, however, continues to follow a downward trend. Q1's 43,615 properties flipped is the lowest number the housing market has seen since Q1 2015, according to the report.
Flipping returns have also begun to dip below their Q4 2016 average. Home flippers sold properties for a Q1 2017 average 0f $200,000, which means flippers made an average of $64,284 in profit per sale, as the median purchase price for a home is $125,716. It's a slight increase from a Q4 2016 gross flipping profit of $63,500 and a Q1 2016 gross flipping profit of $59,100. But don't be fooled — the Q1 2017 gross flipping profit of $64,284 translates into a 47.4 percent average gross return on investment (ROI), a decrease from Q4 2016's 49-percent ROI and Q1 2016's 48.5-percent ROI.
It turns out most home flippers aren't flipping more than one home per quarter, either. According to the report, more than two-thirds of properties flipped in Q1 2017 were by flippers who had completed only that one flip.
Despite this, experts believe investor interest in flipping homes will remain high.
"As the average age of the U.S. housing stock continues to increase across most of the country due to economic, environmental, and regulatory restrictions hampering investments in new construction growth, we will continue to see a renewal of interests in housing flips by investors willing to invest in the time, money, and resources necessary to update and modernize housing stock for lucrative profits," Michael Mahon, a Southern California realtor, told ATTOM.
How each area fared
Many parts of the United States are no stranger to notably high home flipping rates and return values. The district of Columbia had the highest home flipping rate in the country for Q1 2017 at 10.7 percent. Among the 85 metropolitan areas studied, Memphis, Tennessee (15.1 percent); York-Hanover, Pennsylvania (12.5 percent); Fresno, California (11.1 percent); Birmingham, Alabama (10.3 percent); and Las Vegas, Nevada (10.0 percent) all boasted high flipping rates.
Pennsylvania had the highest average gross flipping ROI at 107.1; flipper-friendly cities in the area such as Pittsburgh, Allentown, and Philadelphia played a notable role in reaching such a high number. In terms of gross flipping ROI on a national level, Ohio (96.3 percent); Louisiana (96.0 percent); New Jersey (87.1 percent); and Oklahoma (85.7 percent) followed close behind Pennsylvania.