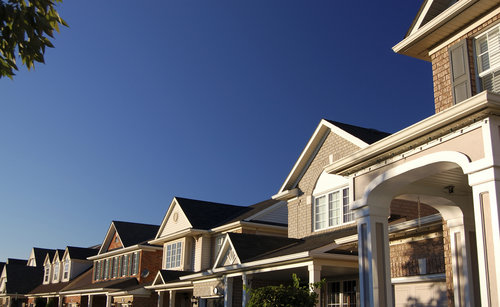 Home prices rose across the country, according to a report released Tuesday.
S&P Dow Jones Indices announced the positive results of the S&P CoreLogic Case-Shiller Indices which measures U.S. home prices. The U.S. National Home Price NSA (non-seasonally-adjusted) index showed a 5.5 percent annual gain in April, securing the index's consecutive five-month record.
Nationwide Increases
Ten major metropolitan areas (Boston, Chicago, Denver, Las Vegas, Los Angeles, South Florida, New York, San Diego, San Francisco and Washington) comprised the index's 10-city composite. The results of the composite included a 0.8 percent monthly increase before seasonal adjustment. After seasonal adjustment, the report found an increase equaling 0.2 percent.
A 20-city composite alongside the other data considered Phoenix, Los Angeles, San Diego, San Francisco, Denver, Washington, South Florida, Tampa Bay, Atlanta, Chicago, Boston, Detroit, Minneapolis-St.Paul, Charlotte, Las Vegas, New York, Cleveland, Portland, Dallas-Fort Worth and Seattle.
Seattle, Portland and Dallas had the highest yearly gains, according to the report. The average monthly increase for all 20 cities monthly was 0.9 percent before seasonal adjustment. After seasonal adjustment, the increase fell to 0.3 percent. Eighteen of 20 cities reported increases in April before seasonal adjustment, but after it only 13 cities' numbers increased.
"We expect home prices to continue to reflect rising prices year-over-year as inventory for existing homes at entry-level prices remain constrained in major markets," Keller Williams Economist Ruben Gonzalez said.
The rise is clear in the report which found average home prices for the areas within the 10-city and 20-city composites returning to their winter 2007 levels.
| | | | |
| --- | --- | --- | --- |
| Area | April/March Change (%) | March/February Change (%) | 1-Year Change (%) |
| Atlanta | 1.4 | 1.1 | 5.8 |
| Boston | 0.5 | 1.4 | 6.7 |
| Charlotte | 1.1 | 1.3 | 6.1 |
| Chicago | 1 | 0.9 | 4 |
| Cleveland | -0.1 | -0.1 | 3.4 |
| Dallas | 1.1 | 1.2 | 8.4 |
| Denver | 1.3 | 1.3 | 0.2 |
| Detroit | 1.3 | 1.6 | 7.4 |
| Las Vegas | 1.4 | 0.8 | 6.8 |
| Los Angeles | 0.7 | 1 | 5.3 |
| Miami | 0.6 | 0.3 | 5.4 |
| Minneapolis | 1.3 | 1.4 | 6.3 |
| New York | 0.3 | 0.7 | 3.8 |
| Phoenix | 0.8 | 6 | 5.7 |
| Portland | 1.9 | 1 | 9.3 |
| San Diego | 0.9 | 1 | 6.6 |
| San Francisco | 1.5 | 1.1 | 5 |
| Seattle | 2.6 | 2.6 | 12.9 |
| Tampa | 0 | -0.6 | 5 |
| Washington | 1.2 | 0.6 | 3.6 |
| Composite-10 | 0.8 | 0.9 | 4.9 |
| Composite-20 | 0.9 | 1 | 5.7 |
| U.S. National | 0.9 | 0.7 | 5.5 |
Source: CoreLogic Case-Shiller