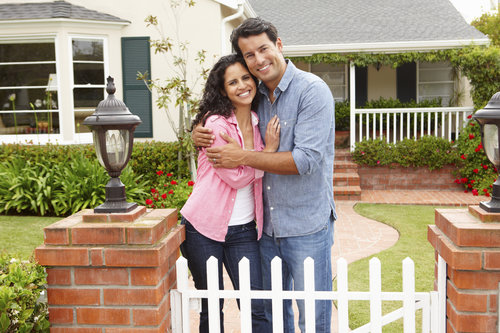 Those looking to buy homes in this market have little time to ponder if they want an available home. In fact, more and more people are bidding on a home without even seeing it in person, according to a recent survey by Redfin.
One in three people (33 percent) who bought a home last year made an offer without first seeing the home in person, according to Redfin's study of 3,350 homeowners in 11 metro areas. That number is up considerably from last year, when 19 percent of buyers placed a bid without first viewing the home.
There's a number of factors that play into this growing phenomenon. One is that technology is making it much easier to view a home without stepping foot inside it. A second and perhaps more important factor is that competition for available homes is causing some buyers to take this drastic step.
Competition heating up
A nationwide inventory shortage is plaguing the housing market, and it appears to be getting worse. Nationwide, about half of available homes are not on the market for more than two months; in major cities, homes are on the market for much shorter than that. Homes sold faster than ever in April, with homes going under contract in an average of 34 days.
The inventory woes cause problems beyond increased sales times and competition. It is one of the reasons why housing costs are reaching record highs in some areas, as bidding wars for available homes push up average costs.
It is also causing people to place offers on homes they have not seen, as the Redfin survey suggests.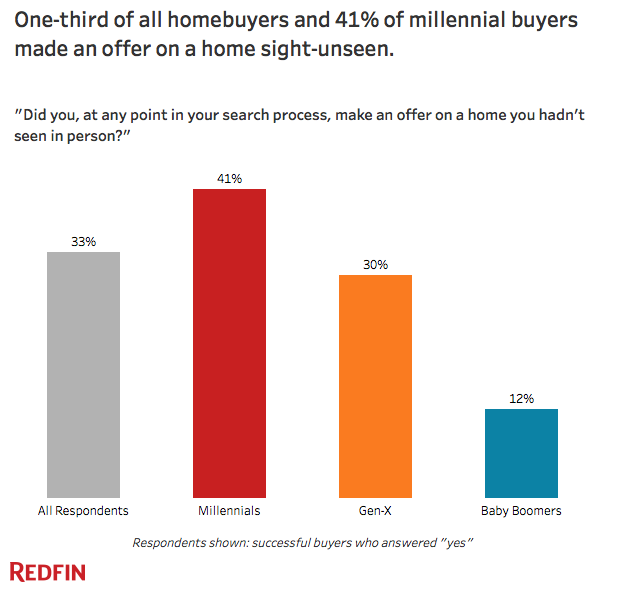 Who is buying sight unseen?
Not everyone is buying a home without first seeing it. According to Redfin, millennials are most likely to purchase a home sight unseen, with 41 percent saying they had done just that.
Only 30 percent of Gen X-ers bought homes without seeing it, and 12 percent of Baby Boomers did the same, Redfin reports.
Why are millennials much more likely to buy sight unseen? It's because they make use of the technology that makes it easier to buy without first touring the home.
Virtual walkthroughs, 3D tours (like one Redfin uses) and other technology advances like drone photography and even professional-grade movies can make a buyer feel like they are inside a property. The popularity of such marketing efforts is increasing, and clearly they are working with one segment of the homebuying public.
"Millennials are already starting to set trends in the real estate industry," Redfin chief economist Nela Richardson said in a statement. "They are three times more likely than Baby Boomers to make an offer sight-unseen, and they're more likely than older buyers and sellers to negotiate commission savings. Despite their tech-savvy confidence, politics are seeping into Millennials' decisions about where to live; nearly half cited hesitations about moving to a place where their neighbors wouldn't share their views."