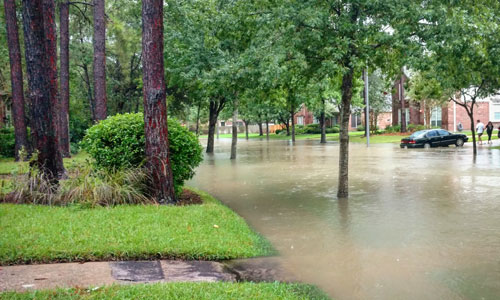 Homeowners, nonprofits and businesses in Houston and other parts of Texas will have access to low-interest loans from the federal government following Hurricane Harvey.
The U.S. Small Business Administration activated its disaster loan program for 18 counties in Texas after President Trump's major disaster declaration.
Homeowners will have access to disaster loans up to $200,000 to repair or replace damaged or destroyed real estate. Homeowners and renters are eligible for up to $40,000 to repair or replace personal property.
Businesses can borrow up to $2 million to repair or replace damaged or destroyed real estate, machinery and equipment, inventory and other business assets. The SBA will also provide funds for homeowners and businesses to help with improvements to prevent future damage.
Interest rates start at 1.75 percent for homeowners and renters, 2.5 percent for private nonprofit organizations and 3.3 percent for businesses with terms up to 30 years.
According to an SBA financial report, the agency approved more than 25,000 disaster loans worth about $1.4 billion.
"SBA is strongly committed to providing Texas with the most effective and customer-focused response possible and with access to federal disaster loans to help Texas businesses and residents affected by this disaster," U.S. SBA Administrator Linda McMahon said in a release. "Getting our businesses and communities up and running after a disaster is our highest priority at SBA."
The affected area includes some of Texas' most populous cities from Corpus Christi to Houston, and inland to Austin and San Antonio. Preliminary reports from the National Weather Service as of Tuesday morning have put rainfall at more than 49 inches, which breaks the previous record for total rainfall from a tropical system of 48 inches in 1978 from Tropical Cyclone Amelia.
To be considered for all forms of disaster assistance, the SBA urges individuals to first call the Federal Emergency Management Agency (FEMA) at (800) 621-3362. As soon as Federal-State Disaster Recovery Centers open in the affected areas, the SBA will provide one-on-one assistance to disaster loan applicants. Additional information and details on the location of disaster recovery centers is available by calling the SBA Customer Service Center at (800) 659-2955.