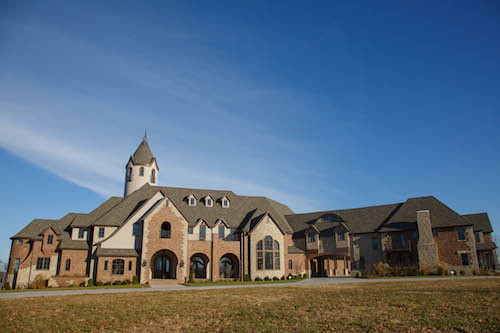 Source: Camp Barnabas
Texas Rangers pitcher Cole Hamels and his wife, Heidi, decided to donate their Missouri mansion to Camp Barnabas, an organization that provides experiences to individuals with special needs and chronic illnesses and their siblings. The 32,000-square-foot home on Table Rock Lake includes more than 100 acres and marks the largest donation in the history of Camp Barnabas. "This is so much more than a beautiful property," says Krystal Simon, chief development officer. "This incredible gift allows us to further our ministry and truly change thousands of lives for years to come." See more photos of the property and learn about the charity at Camp Barnabas' website.
In other Houston real estate news:
The new master-planned community The Woodland Hills announced its first two homebuilders: Ravenna Homes and Westin Homes. The Howard Hughes Corp., which is building the new community, plans to announce more homebuilders in the upcoming weeks. Ravenna will build luxury single-family homes on 65-foot sites and Westin will offer two of its new home series on 65- and 75-foot sites, according to the Houston Business Journal.
Houston-based commercial developer Avera Companies acquired 369 acres on the southeast side of the Houston area, and then sold 235-acres of it to Beazer Homes to develop a master-planned community and large multifamily project. Avera will use the 134 acres for commercial, retail and light industrial use, according to RealtyNewsReport.
An El Campo home with possibly the largest private swimming pool in Texas sold after being on the market for nearly three years. The 7,312-square-foot home is located on 40 acres of land and has a private water park with a 21-foot water slide, 28-person hot tub and a 500-foot adjustable-speed lazy river. The home was originally listed at $5 million before being reduced to $3.5 million, and sold for somewhere between $2.5 million and $2.9 million, according to the Houston Chronicle.